3
minute read
These days, renting a car is easier than ever. You can make a reservation ahead of time right from your computer, and pick up your vehicle when you arrive at the rental facility.
What may not be simple is deciding whether or not to purchase car insurance offered by the rental company. Are you covered if you say no, or should you bite the bullet and pay the extra money? This can be made more difficult if you're stressed from being on a plane for a few hours, grabbing your checked bags off the carousel, and hauling them to the rental car place.
 
Know Before You Go
That's why it is strongly recommended that you take a few minutes to review your regular auto insurance policy before you begin your travels or head for the rental car office. Many policies do offer liability coverage for any vehicles that you rent in addition to the one that you normally drive. Â Â However, some may limit this coverage only to temporary substitutes (i.e. if your car is in the shop) and some may not offer it at all.
It is possible that rental car liability insurance might have higher limits than the policy you have, especially if you only purchased the minimum coverage required to satisfy state law. And if you will be driving the rental car in an unfamiliar area, you may want to be sure that you have enough coverage to take care of any property damage or bodily injury that might result from an accident you cause. These plans tend to cost between $7 and $14 per day.
However, if you don't have collision insurance on your own vehicle, you may want to strongly consider buying rental car insurance. A "loss and damage waiver" from the rental car company will absolve your responsibility for any damages that occur to the vehicle you rent (up to a certain dollar amount). Generally speaking, this waiver costs around $20 per day. If your collision coverage doesn't extend to rentals (both temporary substitutes and pleasure rentals), you'll be on the hook for any repair costs if the rental car is damaged.
Check Your Credit Cards
It's also important to keep in mind that a credit card that you have in your wallet or purse may be the key to adequate rental car insurance. That's because certain credit card companies automatically provide this coverage at no cost to you – if you use the card to book the rental.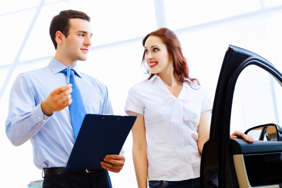 For instance, American Express offers up to $50,000 in coverage for damage or vehicle theft (or $75,000 for its Platinum card), while Discover provides coverage up to a limit of $25,000. Visa will cover you up to the actual cash value of the car. Again, make sure you read the details of your credit card agreement to see what a given card covers in terms of rental car insurance. There could also be restrictions that go along with this insurance, such as an exclusion for high-end luxury vehicles or towing charges.  Additionally, neither insurance provided through your credit card nor your personal automobile insurance may cover things like diminution of value (the reduction of vehicle value even after a vehicle is repaired) or the rental company's loss of use while their car is fixed.
AIS Can Help
Another option is to make sure that your private auto insurance plan is suitable for rental cars as well as the vehicle you already own. So before you embark on your next trip that requires renting a vehicle, check out Auto Insurance Specialists. AIS can help you find all of the coverage you need at a price you can afford, and it can be done in minutes right from your computer by visiting AISInsurance.com.
The moral of the story? Shore up your rental car insurance plans before you leave for your journey. Otherwise, you could wind up paying for coverage you don't need – or be left with a huge, unexpected expense.
Written by Chris Martin
The information in this article was obtained from various sources. This content is offered for educational purposes only and does not represent contractual agreements, nor is it intended to replace manuals or instructions provided by the manufacturer or the advice of a qualified professional. The definitions, terms and coverage in a given policy may be different than those suggested here and such policy will be governed by the language contained therein. No warranty or appropriateness for a specific purpose is expressed or implied.