3
minute read
If asked to describe a motorcycle enthusiast, many Americans probably wouldn't use adjectives like picky or finicky. However, when it comes to motorcyclists looking for a new ride, these descriptions are spot-on. Motorcycle lovers will ask about performance specs, inspect options and features, and they test drive several bikes before they find the "perfect" one. Unfortunately, many of these people aren't as fastidious when choosing the right motorcycle insurance policy.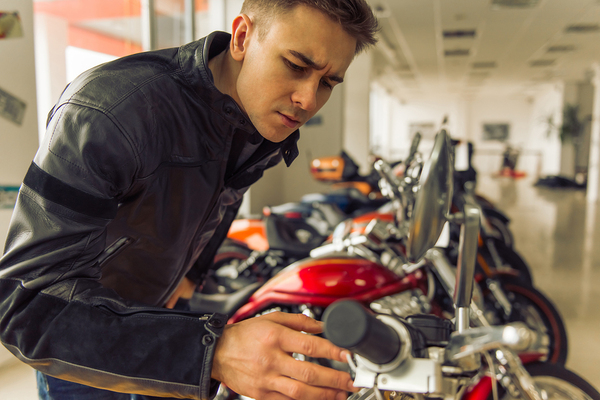 "Will my Hello Kitty tassels fit on these grips?"
That's regrettable, considering that California motorcycle insurance is arguably the second-most important purchase that a motorcyclist makes. Not only does state law require motorcycle riders to carry proof of insurance with them at all times, but having a solid motorcycle insurance policy is the best protection against financial ruin resulting from an accident.
California Motorcycle Liability Insurance Explained
Like most other states, California has laws which mandate a minimum level of motorcycle liability insurance for anyone who operates a motorcycle on the state's roads. (Dirt bikes are exempted from these requirements.) Every motorcyclist must have an insurance policy which covers at least:
$15,000 in bodily injury liability for one person
$30,000 in bodily injury liability per incident
$5,000 in property damage liability per incident
However, it's strongly recommended that motorcyclists consider obtaining a policy with higher coverage limits than the mandatory minimum levels. After all, medical costs per person can quickly exceed $15,000 if any hospital treatment is required, and if there are two or more people who are hurt in an accident, $30,000 probably won't be enough to cover the total medical costs.
That's why liability policies with limits of $50,000, $100,000, or $250,000 for bodily injury are common in California. If a policy doesn't cover all of the costs associated with an incident, the victim(s) can sue the motorcyclist who caused the accident for the amount of the remaining expenses.
Other Types of Motorcycle Insurance
Liability insurance isn't the only type of coverage available for California motorcyclists. Other types of motorcycle insurance include:
Uninsured/Underinsured Motorist: This coverage reimburses the motorcyclist for medical costs associated with an accident that was caused by another driver who does not have any auto/motorcycle insurance (or not enough coverage).
Medical Payments: This coverage reimburses the motorcyclist for medical costs associated with an accident that they caused (assuming they are not covered by a separate health care insurance policy).
Guest Passenger: This coverage pays for medical costs incurred by a passenger in an accident that was caused by the motorcyclist.
Collision: This coverage pays repair costs for the policyholder's motorcycle if damages were sustained in a roadway collision.
Comprehensive: This coverage pays repair costs for the policyholder's motorcycle if damages were caused by anything other than a collision, such as fire, storms, or vandalism. It will also reimburse the policyholder for the value of the motorcycle in the event that it is stolen.
Roadside Assistance: This coverage provides payment or reimbursement for roadside assistance and towing charges incurred if the motorcycle breaks down.
Custom Parts and Equipment: This coverage is for motorcycles which are either custom-made or have customized parts. Standard motorcycle insurance generally doesn't cover these bikes.
How to Save Money on California Motorcycle Insurance
After choosing the types of motorcycle insurance policies that are needed, the next important objective is to find ways to reduce the costs of those premiums. Some strategies for getting motorcycle insurance discounts are:
Paying for six or twelve months' worth of coverage up front instead of on a monthly basis
Raising the policies' deductibles (i.e., the amount of money the policyholder must pay before insurance coverage kicks in)
Buying a policy from the same company that provides the motorcyclist's auto, life, and/or homeowners' insurance (also known as "bundling" policies together)
Agreeing to a paperless and/or automatic bank withdrawal arrangement for premium payments
Buying insurance through a motorcycle club or organization (like the Harley Riders Group)
Investing in anti-theft devices for the motorcycle
Completing an approved motorcycle safety course
AIS Insurance Can Help You Get the Coverage You Need
Even if the motorcyclist does not qualify for the discount options above, he/she can still save money by shopping around and comparing prices for motorcycle insurance. After all, the price-tag on the same coverage can vary widely from insurer to insurer.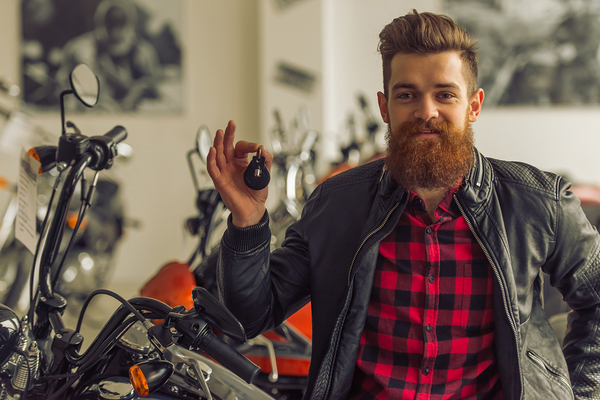 He's happy because he got a great deal on a new bike… AND a motorcycle insurance policy!
AIS Insurance allows you to compare different motorcycle insurance policies side by side. Once you fill out an online form, you'll receive quotes from multiple insurance companies so you can see which option is the most affordable and best suits your needs.
It's perfectly okay for California motorcyclists to be choosy when it comes to motorcycle insurance. Because the only thing better than cruising the open road is the peace of mind in knowing that you're protected against any unexpected events.
The information in this article was obtained from various sources. This content is offered for educational purposes only and does not represent contractual agreements, nor is it intended to replace manuals or instructions provided by the manufacturer or the advice of a qualified professional. The definitions, terms and coverage in a given policy may be different than those suggested here and such policy will be governed by the language contained therein. No warranty or appropriateness for a specific purpose is expressed or implied.