3
minute read
Here's a question: what do yachting near San Diego, fishing in Yosemite National Park, sailing in Marina Del Rey, and waterskiing on the Sacramento River have in common – other than they're all boating activities in California? Answer: They're all situations where having boat insurance is a smart idea.
For recreational water-lovers, boat insurance in California is not required by law. That said, most boat owners would benefit from obtaining at least a basic boat insurance policy. Here are five suggestions on how to find the perfect coverage for your California boat.

1. Make sure the policy is tailored toward the type of boat you have.
As you might imagine, yachts, fishing boats, sailboats, and ski boats will require widely varying policy terms and coverage limits. Other factors which will impact the type (and cost) of your California boat insurance include:
The age of your boat
The size and horsepower of your boat
The bodies of water on which you will operate your boat
The condition and seaworthiness of your boat
The number of boat owners or operators
2. The value of your boat could mean many different things.
In other words, the value of your vessel can be computed in multiple ways, so you should be aware of the method which your insurer uses. The two most common boat valuation approaches are:
Market value (aka actual cash value): the value of your boat at the time you file a claim; or the approximate price you could reasonably hope to sell your boat for on the open market.
Agreed value: A fixed dollar amount on which you and the insurer agree will be paid if the boat is stolen, destroyed, or totaled. This value usually reflects what it would cost to replace the boat with a new (or comparable) vessel.
3. You can also purchase insurance "add-ons" if you want.
These additional coverages are called riders, and they call for the insurance company to reimburse you for specific purposes or events. Examples include:
Consequential damage covers a loss sustained by mold, rot, corrosion, or a similar type of wear and tear condition (that isn't accident related).
Salvage covers the costs needed to remove your boat from a dock or body of water due to damage from an accident, collision, mechanical failure, or many other calamities.
Towing covers the expenses incurred if you must have your disabled or inoperable boat towed in from the ocean or across a large body of water.
Specialized coverage can be purchased to insure a specific item or system on your boat, such as navigation equipment, an expensive prop, or a customized engine.
4. Boat insurance does not cover your vessel everywhere.
For instance, most boat insurance policies are only applicable in inland or coastal U.S. or territorial waters, so if you decide to sail to another country or out in the open sea, your coverage may not extend to those areas.
Also, your boat insurance typically won't cover your boat when it is being stored at your home (although your homeowners' policy should if it is a small vessel) or being transported on land (although your auto insurance policy should cover the liability portion).
Finally, most standard boat insurance policies are voided if you use your boat for business purposes, such as chartering fishing trips, taking tourists on pleasure cruises, or renting it out for waterskiing.
5. You can qualify for discounts on boat insurance.
Before you purchase California boat insurance, be sure to check to see if you can pay a lower premium if:
You confine your boat operations to a specific or smaller geographic area
You choose a higher deductible
You maintain a good driving record – both on land and on the water
You complete a boating safety education course
You opt to "lay up" your boat for certain months of the year and only pay for coverage during the months you operate the boat
You bundle your boat insurance with your auto, homeowners', motorcycle, and/or RV insurance policies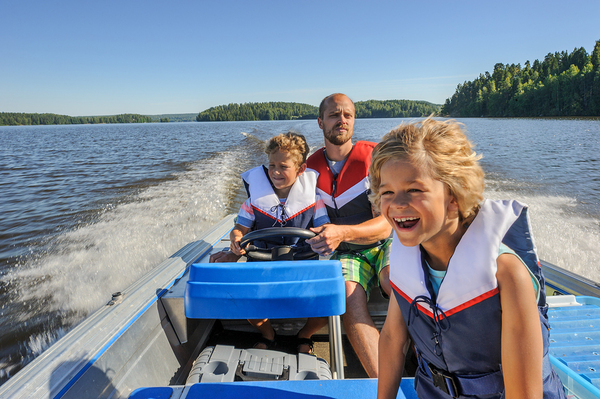 Think of boat insurance as "lifejackets for your boat."
If you want to search for boat insurance in California but don't know where to begin, let AIS Insurance help you. AIS can provide information about our insurance discounts and provide you with boat insurance quotes from multiple insurers so you can compare policies side by side and choose the coverage that fits your individual needs.
Wherever you go boating in the Golden State, bring your sunscreen, be safe, and have fun – and be sure that you're covered against unexpected boating-related accidents or problems.
The information in this article was obtained from various sources. This content is offered for educational purposes only and does not represent contractual agreements, nor is it intended to replace manuals or instructions provided by the manufacturer or the advice of a qualified professional. The definitions, terms and coverage in a given policy may be different than those suggested here and such policy will be governed by the language contained therein. No warranty or appropriateness for a specific purpose is expressed or implied.
For more information on boat insurance and other policies, peruse the AIS website today!