3
minute read
Auto insurance is simply another cost associated with owning a vehicle. While it's rarely fun to discuss, a little bit of information can save you some money in auto insurance premiums. Here is what your car insurance policy covers, when you should make a change to that policy, and how to request those changes from your insurance company.
What Is Covered by Your Auto Insurance Policy?
What you're required to have by state law and what you should have are two different things. Most states have minimum auto insurance requirements. For example, California drivers must have auto insurance that covers:
$5,000 property damage per accident
$15,000 for bodily injury or death of one person per accident
$30,000 for bodily injury or death of 2 or more people per accident
These minimum requirements are considered quite low, and most who buy auto insurance choose limits that are more sufficient. In addition to property damage and bodily injury coverage, there are four other types of auto insurance that can provide you with better protection. These include:
Medical Payments or Personal Injury Protection (PIP), for injuries to the driver and passengers.
Collision, which pays for damage to your vehicle.
Comprehensive, for damage or loss due to an event other than a motor vehicle accident.
Uninsured Motorist Coverage, which pays costs if you're involved in a hit-and-run or an accident with someone who is either uninsured or under-insured.
When Should You Make Car Insurance Changes?
Sometimes it is necessary or simply beneficial to make adjustments to your auto insurance policy. Life is full of changes, and the factors that were originally used to price your current policy could change. In fact, there are several changes that you are under an obligation to report.
If you move, you must report your new address to your auto insurance company. Location is an important rating factor with car insurance as it takes into account such things as accident statistics, crime rates, and average repair costs. The good news is that, if you move from an urban area to the suburbs or the country, your rates will probably go down.
Another change that you must report to your car insurance company is if you get a different vehicle or wish to add a driver to your policy. Your policy is only valid for the vehicle and person listed, and there is often a 'deadline' for automatic coverage for new or replacement vehicles. If either of these change, you need to report this to your insurer, who may be able to give you lower rates.
There are some other instances where it might benefit you to ask your insurer for a rate change. For example, if you get married, your rates could be lower. If you pay off your vehicle or improve your credit score, this could help you in states that use this information (California isn't one of them). However, as your vehicle gets older, this might bring you slightly reduced premiums.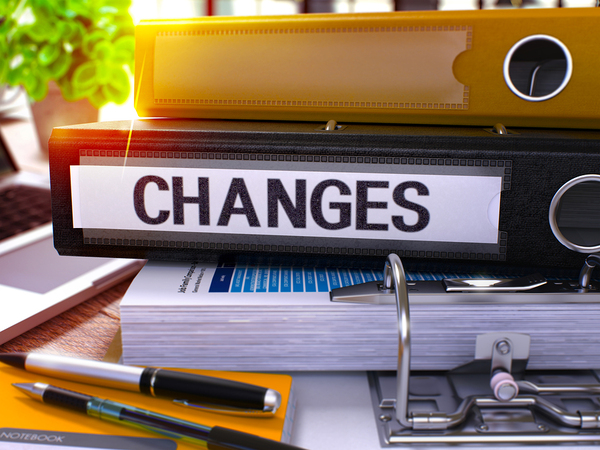 Some car insurance policy changes require that you notify your insurer promptly.
How to Make Auto Insurance Policy Changes
Making auto insurance policy changes is a fairly simple process. All you need to do is ask. Pick up the phone or send an email to your designated agent and let them know the changes that you require. If further documentation is needed, the insurance company will tell you what they need to make your policy changes.
Auto insurance is simply a fact of life for drivers, and understanding your coverage is the basis for saving on premiums long-term. Get started today with a simple auto insurance quote.
The information in this article was obtained from various sources. This content is offered for educational purposes only and does not represent contractual agreements, nor is it intended to replace manuals or instructions provided by the manufacturer or the advice of a qualified professional. The definitions, terms and coverage in a given policy may be different than those suggested here and such policy will be governed by the language contained therein. No warranty or appropriateness for a specific purpose is expressed or implied.