4
minute read
At first, the auto industry called them self-driving vehicles. However, it was hard for people to imagine roads filled with unmanned cars. Now, the automotive industry is calling them autonomous vehicles, or more accurately semi-autonomous cars. This is a reminder that this a hands-off driving world is on its way, although it might not be here yet.
Semi-autonomous vehicles and their manufacturers have, for the most part, emphasized that their autonomous technology systems are only there to assist, not commandeer. What makes them more self-driving is the capability of giving you eyes everywhere, or making use of several cameras and sensors placed around the vehicles. The cameras can see the sides, the back and the front of the car. They can also see in the blind spots that often cause accidents. Some newer model semi-autonomous cars even have cameras in their rearview mirrors. Backup cameras are now mandatory on all new cars as of 2018. Therefore, the newest fleet of semi-autonomous vehicles is just going a step further. Sensors are improving, even enough to steer without manual prompts. However, these vehicles are still not ready for total hands-off driving by any means.
The LA Auto Show showcased all the latest advancements in technology this year. This included several cars debuted as pioneers in semi-autonomous cruising, braking and steering. Take a look at 9 semi-autonomous vehicles that have the best features for driving safer and more effortlessly.
1. Audi Traffic Jam Assist
Audi added a Traffic Jam Assist to the A8 sedan, which is a Level 3 autonomous system. This system allows the car to take full control of driving. At 37 miles per hour, drivers are free to be distracted with texts or whatever else they may want to do for a few minutes. Yes, it will steer, accelerate and brake on its own. It will also come to complete stops and start up again as you sit in traffic. That sounds pretty autonomous to us.
2. Cadillac SuperCruise
Cadillac's SuperCruise system on the CT6 sedan is also hands-free. However, it is only a Level 2 autonomous system because a driver's attention is still required. Cadillac bills itself as the "world's first true hands-free driving system." Their car is supposed to allow for autonomous driving for hours without a problem, but only if the route is on Cadillac's pre-mapped routes. Not bad, right?
3. Tesla Autopilot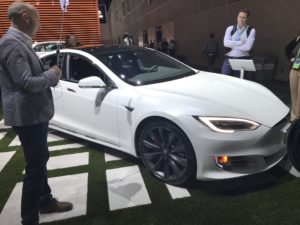 As expected, Tesla's Autopilot is the boldest contender in the autonomous vehicle race. It's definitely up at the top of the list with Cadillac's Super Cruise. Due to government regulations, Tesla no longer makes it so that drivers can take their hands off the steering wheel for very long. Still, compared to other semi-autonomous cars, Tesla's Autopilot allows the longest amount of time with hands-off steering. Tesla vehicles can steer, break, change lanes and even take corners while you are completely hands-free. At the LA Auto Show, the Model S revealed many cameras, radar, sonar gadgets and software updates. The Model S is thought of as a pioneer in technological advancements and after years of research, it's easy to see why.
4. Nissan ProPilot
Nissan's ProPilot driving assist system is available in the 2018 Leaf and 2018 Infinity Q50 sedan. The system can accelerate and brake based on your settings and the activity of other vehicles ahead. While the car can also self-steer, your hands must be on the steering wheel at all times. Otherwise, you'll get a warning signal. The Nissan ProPilot also helps keep your car centered in a lane without much effort.
5. Lexus Safety Sense
As Toyota's entrance onto the semi-autonomous vehicle scene, the Lexus Safety Sense System is also impressive. This system includes automatic braking and steering. It is Level 4 autonomy that only works when the driver disengages. The Safety Sense pre-collision system also detects pedestrians using a radar and camera. The car will slow down as it approaches objects or pedestrians in the distance. If the driver doesn't brake, the car will. How is that for advanced car safety?
6. BMW Traffic Jam Assistant
BMW's Traffic Jam Assistant is a semi-autonomous system that can provide great relief for those who sit in traffic for long periods of time. At low speeds, Traffic Jam Assistant can steer, brake, accelerate and pretty much take care of everything. Your hands have to be on the wheel, however, even if they aren't doing much at all. BMW seems to be well on its way to a more advanced self-driving experience in the near future.
7. Mercedes-Benz Drive Pilot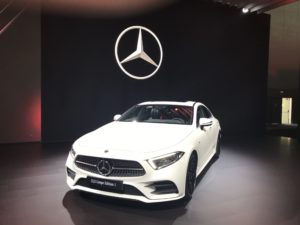 The Mercedes-Benz Drive Pilot allows autonomous driving, lane changing and speed changes. However, these are only functional when when road conditions are not potentially accident-prone. Like most other semi-autonomous cars, you must have your hands on the wheel for the Mercedes Drive Pilot to work. You can take your hands off for up to 45 seconds, so it still fares better than most of the others in its class, except maybe Tesla.
8. Volvo Pilot Assist
This autonomous system works similarly to Tesla's and Mercedes-Benz's systems. The Volvo Pilot Assist offers autonomous driving with little response from the driver, though there is some required. The Pilot Assist system will steer, take corners and accelerate or slow down based on vehicle traffic ahead of it. Since Volvo is a leader in car safety, there's no surprise that they are advancing this technology in all avenues possible.
9. Infinity ProPilot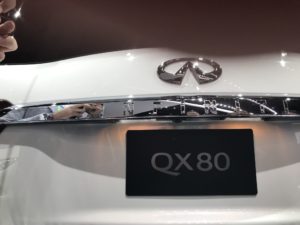 The 2018 Infiniti Q50 debuted the brand's self-driving system at the LA Auto Show. Like all the other manufacturers, the ProPilot is more of an driver-assist system. The Infiniti QX80 goes even farther with new semi-autonomous technology. The vehicle is fully equipped with adaptive cruise control, forward collision warning systems, forward emergency braking, lane departure warning and blind spot warning systems. It even has a camera in the rearview mirror to alert you of drivers behind you.
Car Insurance
One of the main goals of creating semi-autonomous vehicles is to reduce the amount of accidents on the road. However, these vehicles still need to be protected with the proper Car Insurance. Most of these technologically advanced vehicles come with expensive cameras and sensors. That could make a car accident very costly. Therefore, it's important to have the right amount of coverage if you own or plan to own a semi-autonomous car. Speak with a trusted Insurance Specialist about your options and get multiple quotes for the car you own or plan to buy at (855) 919-4247.
---
The information in this article was obtained from various sources. This content is offered for educational purposes only and does not represent contractual agreements. It is not intended to replace manuals or instructions or the advice of a qualified professional. The definitions, terms and coverage in a given policy may be different than those suggested here. Such policy will be governed by the language contained therein. No warranty or appropriateness for a specific purpose is expressed or implied.