5
minute read
Home security is crucial to your peace of mind. If you've just Googled something like the question above and found us, chances are that you are shaken up because your home has been vandalized or you suspect someone has broken into it. You're not alone. An estimated 3.7 million home burglaries occur each year. For the sake of your own safety, the first thing you must do is call the police.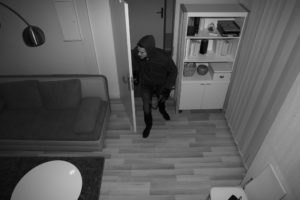 It's easy to make unwise decisions when you are under great duress. So it's important that you alert the authorities whether you're home or away when the burglary occurs. The intruder may still be in the house, so get to an area of safety (maybe your car or a room with a lock) until the police arrive. If you're not home when you realize your house has been broken into, do not try to solve the problem by rushing home. Call the police before doing anything.
In order to retrieve your possessions or to recoup your losses, you'll need to file a police report. Hopefully, the thief will be intercepted by police right away and you will get all your belongings back. However, if that fails, you will need the police report number to file a Homeowners Insurance claim or a Renters Insurance claim to get some money for what you lost. This could be the start to restoring your sense of home security and peace of mind.
Below are five tips that will help you deal with a nightmarish situation in the best way possible.
1. Don't Touch Anything
It'll be tempting to go through your belongings to see if they've been stolen or spared. However, touching your possessions will only hurt you in the end. If it looks like your place has been ransacked, it's best that you wait for the police to arrive before rifling through your things. Otherwise, you may be tampering with important evidence and fingerprints in what is now a crime scene.
2. Be Specific
As soon as they arrive, tell the police what you believe was stolen. If your possessions are definitely gone, give a good description of each item. Along with a detailed description, make sure to give an approximate value for each of your possessions.
If you were worried about your house being burglarized before it happened, you may already have a list of the valuables that were in your home. If you don't have a list like this, it may be a good time to make one. Remember to take photographs of your valuables too, so you can simply hand these things over to the police in the event that you are robbed.
If you have security cameras, hand over the video footage of the break-in too. Also, watch it yourself to see how and where the intruder entered your home so you can prevent another break-in in the future. Home security is very important not only for you, but your family and loved ones.
3. Call Your Insurance Agent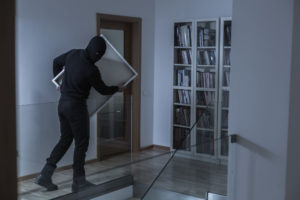 Don't wait to see if the intruder gets caught by the police. Even if you gave the police a detailed description of the burglar or even had his or her license plate, there's no guarantee that your possessions will turn back up. It is important that you alert your agent right away so that you can start a claim on your Homeowners or Renters Insurance policy in case your possessions are gone.
Make sure to call within 24 hours of the incident and have all the police report information with you when you speak to the agent. Most likely, a claims adjuster will be given the responsibility of coming to your home to process the claim. It's important that between the time of the incident and the time it takes for the adjuster to inspect your home that you leave the place as it is. Again: Don't touch anything. Better yet, stay out of the home until after the adjuster visits. This will also benefit your mental health, as it's normal to feel unsafe after an intrusion.
4. Contact Your Neighbors
Not only will talking with neighbors give you the chance to find out if anyone saw any particularly suspicious activity around the time your home was broken into, but they will be alerted to the fact that there is a thief on the loose. It may also give them the chance to update or upgrade their own home security systems.
Often thieves go door-to-door with the advantage of being familiar with the layout of the homes on the vicinity. It's always a good idea to get to know our neighbors. Next time, they may be able to collect your mail and do other similar things to make it seem as if you are home when you're away. You can do the same for them. Neighborhoods that stay together are the safest. If your city has a neighborhood watch, it would be a good idea to alert them about the robbery too.
5. Be Better Prepared in the Future
Locks. There are certain things we know about break-ins. Most occur though the front door or back door, even second floor patio windows. All doors and windows need to have secure locks. This is the first step in having reliable home security.
Lights. We also know that thieves like to operate in the dark. Nothing spooks them more than a motion-sensing light that goes on just as they are about to break in. You can also put timers on your indoor and outdoor lights so they go on and off intermittently when you're not home. You can do lots of other things to fake being home using an iPhone or Android app that connects to a home security system installed in your home.
Dogs. Even if you don't have one, have a loop of dogs barking playing near the front door. Or, place a "Beware of Dog" sign on your front steps. Again, dog ownership is totally optional for these suggestions.
Signs. Use home security system signs, even if you don't have the service. These could deter burglars from even trying to break-in in the first place.
Home Security Systems. The best thing you can do is to actually buy a reliable home security system or alarm. You have a range of systems to choose from, including motion sensor lights, alarms and surveillance cameras. Some people choose to use alarm monitoring, which comes fully equipped with a company that is linked to the alarm system in order to alert the authorities in your absence. Some home security systems can earn you a big discount in Homeowners Insurance, so speak with an Insurance Specialist at (855) 919-4247 before investing in one.
Facts About Burglaries
Most home burglaries occur while you're at work and your children are at school.
The majority of house burglaries occur between June and August, when people are home fewer hours a day.
The master bedroom is often targeted first, so a heavy-duty safe may be a good idea in this room.
The most stolen items from a home include jewelry, guns, cash and electronics.
New Mexico has the highest rates of home burglaries in the country, with Arkansas coming in at second and Mississippi third.
Homeowners Insurance
Homeowners Insurance and Renters Insurance are not a luxury but a necessity. The cost of recouping losses on your own without insurance coverage will probably be far greater than the amount you pay towards insurance each year. If you own valuable jewelry, you should make sure you have adequate coverage on these items. Also, keep a list of your valuables along with clear photographs of each item in the event of a burglary. You will not only need this inventory for police, but also for your insurance agent or claims adjuster. Call a trusted Insurance Specialist at (855) 247-5298 if you need to upgrade your Homeowners or Renters Insurance to cover everything you cherish.
---
This content is offered for educational purposes only and does not represent contractual agreements. The definitions, terms, and coverage in a given policy may be different from those suggested here and such policy will be governed by the language contained therein. No warranty or appropriateness for a specific purpose is expressed or implied.