4
minute read
Whether you're starting to build your business fleet or adding to it, choosing the right fleet vehicle can be difficult. It's almost like choosing the right employee. There are several factors to consider, so take your time to make the right decision. That way, you'll be much more confident with the vehicle(s) you choose and your business will be well equipped to tackle the demands of your customers.
Do You Need a Fleet Vehicle? Know Your Budget
First, consider your budget. You will probably research for hours, test drive and consider all the reasons that a car will be the perfect fit for your business. But, if it's not within your price range, then you'll be back at square one. As you examine your budget keep in mind that you likely have the option to buy or lease the vehicles you need for your fleet. Depending on your needs and how you do the math, one will make more financial sense than the other.
Your budget can determine whether you lease or buy. However, keep in mind that leasing or buying may change your budget. Depending on the option you choose, you may either be freeing up capital for other areas of your business or limiting what you can spend. A lease may save your business money because you won't have to shoulder the cost of ownership (purchase price, financing, maintenance, etc.). Like with a personal lease, you'll have to be mindful of cosmetic damages to the vehicles, mileage and other factors outlined in your lease agreement. If you rather not be limited by the terms of a lease, purchasing may be a better fit.
What's the Use?
By this, we mean how you will use your vehicle. To choose the right fleet vehicle for your business, anticipate how you will be using it. It's helpful to ask yourself these questions:
Will it be dedicated to one specific use, or will it serve multiple functions?
Is it for business operations or a perk?
Will it be driven by one person, or several?
Do you plan to brand it with your business information and logo?
Where will it be used?
Fleet Types and Vehicles
Transportation Fleet Vehicles
Of course, all fleets deal with some sort of transportation. Here, we're talking about the transportation of people. This could be a shuttle service offered by a hotel, auto shop, event center, taxi or rideshare service. Keep in mind that customer service and the impression you make on them is important, so keep their comfort in mind. Here are some van options to consider:
| | |
| --- | --- |
| Chevy Express | Nissan NV3500 HD |
| Ford Transit | Mercedes Benz-Sprinter |
Executive/Corporate Fleet Vehicles
These fleets tend to include the types of cars most used for personal everyday commuting. Fuel economy and style are the major factors considered when shopping in this category. Companies can virtually select any car they desire. Here are some popular options:
| | |
| --- | --- |
| Nissan Altima | Hyundai Accent |
| Chevy Impala | Chevy Equinox |
Utility Fleet Vehicles
From public utility vehicles used by your local public works department to contractors like electricians and plumbers, utility fleets can vary widely in size and functionality.
| | |
| --- | --- |
| FORD F-650/F-750 | GMC Savana Cargo |
| Silverado 2500 HD & 3500 HD | Mercedes-Benz Sprinter Cargo Van |
Delivery Fleet Vehicles
The vehicles in a delivery fleet can vary in style and size. Some can be larger like FedEx and UPS trucks, others can be much smaller and agile. Therefore, choosing the perfect one for your needs is important. Consider the following trucks and vans:
| | |
| --- | --- |
| Chevy Express Cargo | Nissan NV1500 Cargo |
| Dodge Tradesman SLT Cargo Van | Workhorse E-100 |
Trucking Fleet Vehicles
These powerful vehicles truly mobilize the U.S. economy. Trucks in a fleet are considered as more than an expense, but rather an investment. There are currently gas and natural gas options, with electric models on the way. Here are some On-Highway and Vocational trucks from top manufacturers.
| | |
| --- | --- |
| Freightliner M2-106 | Volvo VAH |
| Mack Anthem | Peterbilt 567 |
Commercial Fleet Vehicles
These fleets are composed of more than one type of fleet vehicle. Usually, commercial fleets have a variety of vehicles that serve different purposes but together make business possible. This is usually true for large businesses.
Going Green
Cars and trucks for personal use have been in the hybrid and electric space for quite a while now. So, it's no surprise that the auto industry at large is working on electric fleet vehicle options. Some high-profile manufacturers to keep an eye on are Rivian and Tesla. Longer established manufacturers like Chevrolet, Nissan, and Workhorse are also developing electric solutions that satisfy the high demands of businesses.
According to a 2016 study by the EPA, 23% of emissions in the transportation sector come from medium and heavy-duty trucks. If you're at all concerned about your carbon footprint and the economics of these vehicles, looking into electric options is worth your time.
2016 U.S. Transportation Sector GHG Emissions by Source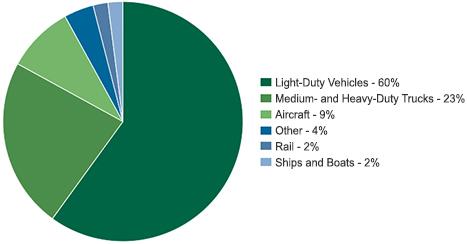 Commercial Insurance
It's important that your insurance needs are handled with expertise, as Business Auto and Commercial Truck Insurance are indispensable. Your coverage requirements are likely to be different depending on whether you lease or purchase vehicles for your fleet. Tailoring a Commercial Insurance policy for your business takes special consideration of several factors. These include types of vehicles, type of use, drivers, claims record and the state(s) you operate in. A Business Insurance Specialist will be able to help you build the right policy for your fleet. Specialists at AIS build customized policies and provide quotes with multiple carriers. Comparison shopping through a dedicated Business Insurance team is a resource all businesses can leverage. Call (866) 570-7335 for a free quote and customized coverage and follow AIS on LinkedIn for more valuable resources.
---
This content is offered for educational purposes only and does not represent contractual agreements. The definitions, terms, and coverage in a given policy may be different from those suggested here. Such policy will be governed by the language contained therein, and no warranty or appropriateness for a specific purpose is expressed or implied.