5
minute read
As summer approaches, so does the season of adventure. That means RV road trips, boating, camping and more. If you have a travel trailer or pop-up camper, then you might be wondering if your car can tow it. Or, maybe you're thinking about buying a new SUV and are interested in one with the best towing capabilities. Well, look no further!
Below are the 10 best SUVs available for towing 7,000 lbs. or more and that cost less than $75,000.
1. 2019 Ford Expedition
MSRP: $52,130 | Max Towing Capacity: 9,300 lbs.
The first SUV on our list is the Ford Expedition, which has a twin-turbo 3.5-liter EcoBoost V6 engine and can tow the most weight at 9,300 lbs. That's right, it doesn't even need V8 power to haul all that weight. However, to reach that maximum towing capacity, you'll have to fork out more money and add on the Heavy Duty Trailer Tow Package. While the Ford Expedition's towing capabilities are impressive, its fuel economy rating is only about 19 mpg. The interior is also not quite as luxurious as some other SUVs out there in a similar price range.
2. 2019 Dodge Durango SRT
MSRP: $62,995 | Max Towing Capacity: 8,700 lbs.
The Dodge Durango was designed to be family-friendly but still have a high towing capacity. The price for the SRT is a little steep, but it comes with all-wheel drive, 8-speed automatic transmission, adaptive suspension, performance brakes and a limited-slip differential. It also has a 6.4-liter Hemi V8 engine that gets 475 hp and 470 lb-ft of torque. The Trailer Tow Package is required to reach the maximum towing capacity of 8,700 lbs. However, if you don't need to haul anything that heavy, you can get one of the more affordable Dodge Durango models which tow either 7,200 or 6,200 lbs.
3. 2019 Land Rover Range Rover Sport
MSRP: $68,500 | Max Towing Capacity: 7,716 lbs.
Considered a luxury SUV, the Land Rover Range Rover Sport can haul up to 7,716 lbs. with the supercharged V6, the turbodiesel V6 or the supercharged V8 engine. It also features a Tow Hitch Assist capability that allows you to use the rear-view camera and sensors to line up your trailer to the hitch accurately. It's a little pricey, but the luxury, performance and technology are pretty hard to beat. It even offers an optional Activity Key wristband that allows you to lock your key inside the SUV when it's inconvenient to have it with you outdoors. You can then use the wristband to lock and unlock your doors from the outside.
4. 2019 Lincoln Navigator
MSRP: $73,205 | Max Towing Capacity: 8,300 lbs.
If you care about an interior with a luxury feel, then the Lincoln Navigator could be just what you're looking for in an SUV. Plus, it can tow a pretty decent weight with its Heavy Duty Trailer Tow Package and twin-turbo 3.5-liter EcoBoost V6. The engine also generates an impressive 450 hp and 510 lb-ft of torque. However, this SUV is on the more expensive side and only has a fuel economy rating of about 18 mpg. Still, you'd get to enjoy comfortable seating, the user-friendly SYNC 3 infotainment system and the optional rear-seat entertainment system. It's basically an upgrade from the Ford Expedition in every way except for its maximum towing capacity.
5. 2019 Nissan Armada
MSRP: $47,100 | Max Towing Capacity: 8,500 lbs.
For the optimal towing setup on the Nissan Armada, go with the rear-wheel-drive model and the optional Driver Package. That way you'll get a trailer towing harness connector and an innovative Tow/Haul mode that makes it easy to haul your favorite toys. This SUV already comes standard with a 5.6-liter Direct Injection Gasoline V8 engine that produces 390 hp and 394 lb-ft of torque. Overall, the Armada's base price and quality makes it an attractive SUV option.
6. 2019 Chevrolet Tahoe
MSRP: $48,000 | Max Towing Capacity: 8,600 lbs.
Don't let the base price fool you on the Chevrolet Tahoe. You'll need to get the model with the 5.3-liter V8 engine and add on the Max Trailering Package to achieve maximum towing capacity. If you want all the bells and whistles, then you'll probably end up spending somewhere in the $60,000 range. However, it's a great option for towing anything from a pop-up camper to a small boat or ATV. You'll get 355 hp, 383 lb-ft of torque and about 22 mpg on the highway. The Tahoe also comes with a spacious interior, 8-inch driver information center and optional rear-seat entertainment system. Plus, if you opt for the LS model, you can fit 9 people inside!
7. 2019 GMC Yukon
MSRP: $49,600 | Max Towing Capacity: 8,500 lbs.
This SUV has a 5.3-liter EcoTec3 V8 engine with 355 hp and 383 lb ft-torque, making it similar to the Chevrolet Tahoe above. However, you will have to add on the HD Trailering Package to achieve the 8,500 lb. maximum towing capacity. The GMC Yukon has a comfortable interior, spacious cabin for 9Â passengers and handles well for a large SUV. Key features include a rear vision camera system, front and rear park assist, and lots of room for both passengers and cargo. It also gets about 22 mpg on the highway.
8. 2019 Toyota Sequoia
MSRP: $48,850 | Max Towing Capacity: 7,400 lbs.
The word "large" more accurately describes the Toyota Sequoia than the word "luxury." That's because the interior is somewhat average, although it has 120 cubic feet of cargo space when the rear seats are folded. It comes standard with a 5.7-liter V8 engine and an available Tow/Haul mode to more easily haul that 7,400 lbs. You might be aware that the Toyota Land Cruiser is better known for its off-road pedigree, its maximum towing capacity of 8,100 lbs. and its luxurious interior. However, the Sequoia is significantly more affordable with its base price of $48,850 versus the Land Cruiser's base price of over $85,000. Both SUVs only get about 17 mpg on the highway.
9. 2019 Jeep Grand Cherokee
MSRP: $31,945 | Max Towing Capacity: 7,200 lbs.
With the 5.7-liter V8 engine, the Jeep Grand Cherokee can tow up to 7,200 lbs. and comes with Fuel Saver Technology for added efficiency. That gives you about 360 hp and 390 lb-ft of torque. Not surprisingly, you will also enjoy great off-roading capabilities, a user-friendly infotainment system and an upscale cabin. For optimal hauling capabilities, you can add the optional Trailer Tow Group IV to your Grand Cherokee which includes a seven- and four-pin wiring harness, a Class IV Receiver Hitch and Rear Load-Leveling Suspension on specific models.
10. 2019 Infiniti QX80
MSRP: $65,400 | Max Towing Capacity: 8,500 lbs.
Just because it's one of the more luxurious SUVs on our list, doesn't mean it has to give up any towing capabilities. The Infiniti QX80 comes standard with a 5.6-liter V8 engine that produces 400 hp and 412 lb-ft of torque. It uses a 7-speed automatic transmission and gets about 16 mpg. For maximum towing capacity, opt for rear-wheel drive and the optional Class IV trailer hitch. The QX80 is most similar to the Nissan Armada, but has a more luxurious feel. That means it has a higher price point, too.
Auto Insurance For Your SUV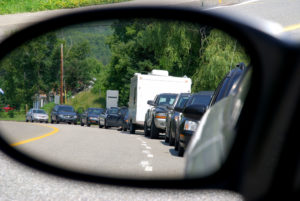 Did you know? AIS can insure not only your SUV, but all your recreational vehicles, too. That includes your trailer, boat, ATV and more. Plus, we can help you bundle your policies to see if you qualify for a discount on your Car Insurance. If you just bought a new SUV or RV, our Insurance Specialists can also compare the lowest rates and give you a free quote in minutes. We can quote any vehicle model up to 2020. Just call (855) 919-4247 if you want to save money on your Auto Insurance today.
---
The images in this article do not belong to AIS Insurance. The information in this article is obtained from various sources. This content is offered for educational purposes only and does not represent contractual agreements. It should not replace manuals or instructions provided by the manufacturer or the advice of a qualified professional. No warranty or appropriateness for a specific purpose is expressed or implied.