4
minute read
The holidays are something that everyone looks forward to during the year. You get to spend time with loved ones, share your favorite meals and desserts, and wear your best holiday attire. Unfortunately, every holiday, from St. Patrick's Day to Christmas, has its party-poopers. In fact, many holidays are known for having a dangerous number of drunk drivers on the road.
Annually, about 28% of fatal accidents are caused by drunk driving. During a holiday or holiday weekend, that number increases to 40%! Below are the holidays with the most drunk drivers every year. It's best to be aware of these days so that you know when to stay off the roads.
St. Patrick's Day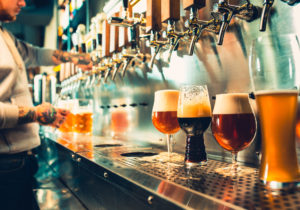 Americans love a reason to celebrate and St. Patrick's Day is no exception. The holiday dates back to 1762 and is notorious for being a holiday with one of the largest amounts of alcohol consumption in the country. On this day, 27% of adults party at a bar or a restaurant. On average, 4.2 drinks per person are consumed and 13 million of those drinks are pints of Guinness. In other words, it's a smart idea to enjoy your St. Patty's day off the roads. If you must go out, make sure you have a designated driver or use a rideshare app like Uber or Lyft. It's always better to be safe rather than sorry.
4th of July
The Declaration of Independence has been celebrated since it was signed in 1776. Today, many people choose to celebrate the founding of our nation with barbecues and drinking. Around 68 million cases of beer are sold during 4th of July weekend. That's more than any other holiday of the year! Unfortunately, that much alcohol consumption also leads to a lot of drunk drivers. In 2019, there were 589 DUI arrests in California alone. In other words, Independence Day is one of the most unsafe holidays to get behind the wheel.
Labor Day Weekend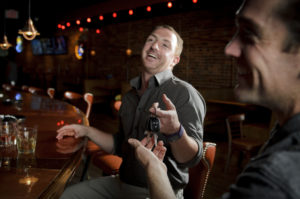 You may be surprised that Labor Day weekend is also a holiday with the most drunk drivers. However, in 2018, California was deemed the most dangerous state to be on the road during Labor Day weekend. The holiday is typically considered the last day of summer and pretty much everyone gets the Monday off. To celebrate Labor Day, people host cookouts and parties to end their summer with a bang. Many of these backyard barbecues serve alcohol but, unfortunately, not everyone plans to have a designated driver to get them home from the weekend's festivities. So, if you do choose to drink on Labor Day weekend and you don't have a designated driver, use a rideshare app to get yourself home safely.
Day Before Thanksgiving
"Blackout Wednesday," "Whiskey Wednesday" and "Drinksgiving" are commonly used nicknames for the Wednesday before Thanksgiving. The rush of college students returning home and going out with their friends results in the heaviest day of drinking across the United States. Not to mention all the other people who have Thanksgiving off and decide to go out the night before a long day of cooking and dealing with family members. As one of the top drunk driving nights of the year, it's in your best interest to stay off the roads the night before Thanksgiving.
Christmas
One of the most joyful times of the year can also be one of the most dangerous. Theft and car accidents are increased due to an influx of people being out and about during the holiday season. During the week of Christmas and on Christmas Day itself, many people are traveling to see their family and friends. That means there are more people on the road, which leads to an increased amount of fatalities from car accidents. In fact, the number of crashes involving an alcohol-impaired driver rises from 36 per day to 45 during the 3-day Christmas period. If possible, plan to travel a couple of days before and after Christmas to avoid roads when they are the busiest and most dangerous.
New Year's Day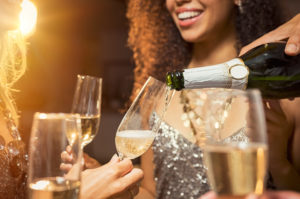 It's always a good idea to start the new year right by staying safe and responsible. New Year's Eve and New Year's Day are some of the most dangerous times to be outside, whether you're a driver or a pedestrian. You may be surprised to know that more pedestrian deaths occur on New Year's Day than any other day of the year, including Halloween. If you are popping off New Year's with Champagne, be sure to protect yourself and others by staying off the streets.
Ways To Prevent Drunk Drivers
You can't always control other people, but there are still ways you can help protect yourself and others from drunk drivers. The most obvious way, of course, is never to drink and drive. And yes, getting behind the wheel "buzzed" is just as dangerous.
Some other ways to prevent drunk driving include:
Have a trustworthy, designated driver whenever you go out for drinks.
Use a rideshare app like Uber or Lyft if you are too intoxicated to drive home.
Take your friend's keys if they are too drunk to drive home. Send them home in an Uber if necessary.
Do not get into the car of someone who is too intoxicated to drive you home.
Know the signs of drunk driving while you're on the road. These include drivers who are going very slow, not staying in their lane, or braking and drifting erratically.
If you suspect someone of drunk driving, call the authorities and report them. However, pull over to make the call, use your car's Bluetooth or have a passenger call for you.
Always look both ways when crossing the street and avoid jaywalking, especially at night.
A few other holidays in which you should be especially cautious are Halloween, Memorial Day Weekend and Super Bowl Sunday.
How Does a DUI Affect My Auto Insurance?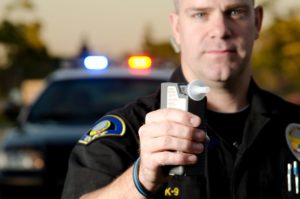 A DUI impacts your Auto Insurance rate significantly. For more information on what happens when you get a DUI, check out this article. On average, you will see an increase of 80% on your premium, or an additional $1,000 more than your current rate. Drinking and driving is never worth it. Stay safe during the holidays and every day of the year! If you're already experiencing high Car Insurance rates, call (855) 919-4247 to speak with an Insurance Specialist today.
---
The information in this article is obtained from various sources. This content is offered for educational purposes only and does not represent contractual agreements. The definitions, terms and coverages in a given policy may be different than those suggested here. No warranty or appropriateness for a specific purpose is expressed or implied.