3
minute read
If you just started attending college then you may have moved out of your home and into an apartment located closer to campus. That also likely means that you moved in with a roommate or even several. Or, maybe you recently graduated from a university and moved in with fellow graduates to a new city where you're starting a new job. Whatever the reason may be, it's important to carry Renters Insurance. This type of coverage provides you with financial protection and usually doesn't cost that much.
Additionally, most landlords require tenants to carry Renters Insurance. Even if your landlord doesn't, it's still a smart idea to have coverage. Your laptop, television and furniture can add up to thousands of dollars alone. Do you have the finances to replace them in the event of a break-in or fire?
What Does Renters Insurance Cover?
There are four main types of coverages typically included in a standard Renters Insurance policy.
1. Personal Property Coverage
This type of coverage protects your belongings, such as furniture, electronics, clothes, etc. from unfortunate events like fire, theft, vandalism, smoke damage, explosions and more. It should be noted that flood damage and damage caused by an earthquake are not covered.
Under Personal Property, there is also Special Limits coverage that protects your valuables, such as jewelry, antiques and fine art. However, your policy will have a limit that may not be sufficient if you suffer a loss. If you own jewelry items like an engagement ring or wedding band, then you may want to increase the limits on this coverage. You can find more information about jewelry coverage here.
2. Personal Liability Coverage
This type of insurance covers costs if you're deemed legally responsible for bodily injury or property damage to a third party.
3. "Loss of Use" Coverage
This type of insurance covers additional living expenses, such as temporary housing, in the event of a covered loss like a fire or explosion.
4. Guest Medical Payment
This type of coverage pays for the medical expenses of your guests if they are injured on your property. For example, while your friend is over, they trip and fall inside your apartment, chipping their tooth. Personal Liability Insurance will cover their dental costs.
For 10 more reasons on why you should carry Renters Insurance, go here.
Does My Roommate Need Renters Insurance, Too?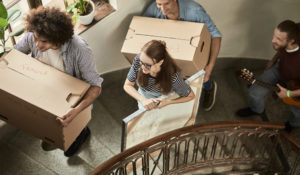 So, you've figured out what coverage you need on your Renters Insurance policy. But what about your roommate(s)? First, you should know that your roommate is not covered by your insurance unless they are explicitly listed on the policy. You may think that adding everyone to one policy is a good idea because it'll save you a few extra bucks per month. However, only a few insurance companies allow you to do this and it's not usually recommended. One reason is because for each person a policy covers, the likelihood of a claim increases. Not only that, but your rate can skyrocket if your roommate does make a claim. It's better that everyone has their own policy that covers their own belongings and risk.
How Much Does Renters Insurance Cost?
According to Value Penguin, the average cost of Renters Insurance in the United States in 2019 is $16 per month or about $187 per year. Alabama, Georgia and Hawaii have the highest premiums compared to the national average. Delaware, Idaho and Alaska have the lowest premiums compared to the national average. In general, Renters Insurance tends to be affordable relative to the amount of coverage it provides.
Some of the main factors that determine your Renters Insurance rate include:
Location of the rental unit
Personal property coverage limits
Liability protection limits
Home security features like burglar and/or fire alarms
Claim history
Keep in mind that your policy will have coverage limits and a deductible. A standard Renters Insurance policy covers personal property against theft and damage up to $25,000 and personal liability up to $100,000. A standard policy typically has a deductible ranging from $500-$1,000. Depending on your situation, you may choose to increase your limits and/or deductible. This will affect your premium, as well.
How Can I Find The Best Renters Insurance Rate?
Our AIS Insurance Specialists help you find the best Renters Insurance coverage at the best price. We do the work for you by comparing multiple trusted insurance companies so that you don't have to. We can also help you find discounts and bundle your other insurance policies for an even lower rate. Speak with an agent today at (855) 247-5298.
---
The information in this article is obtained from various sources. This content is offered for educational purposes only. It should not replace the advice of a qualified professional. The definitions, terms and coverage in a given policy may be different than those suggested here. No warranty or appropriateness for a specific purpose is expressed or implied.