4
minute read
Many companies, even the big ones like Google and Microsoft, have announced that their employees will be working from home through the end of 2020, if not longer. If you're someone that also falls into this boat, it might be time to make yourself a more permanent home office space. Stop moving your laptop from the living room couch to the kitchen counter top to the dining room table. Even if you already have a dedicated work from home space, our tips will help you create an area that is sure to increase productivity and keep you focused while working from home.
Finding the Right Space in Your Home
For starters, make sure the space you plan to work in makes sense. Not everyone has a spare room to put an office in, but you still want to find the quietest area in your home where you can comfortably fit a desk and chair. Also, keep in mind that if you have frequent video calls, you should set up your desk somewhere that provides a clean background.
Work From Home Office Basics
Once you've figured out where you're going to work from home, make a list of essentials. Let's start with the big items first.
Desk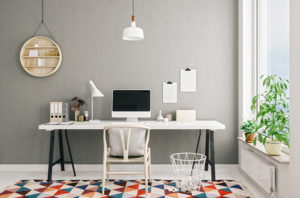 Common places to find an affordable home office desk include IKEA, Amazon, and Home Depot. Measure the space you have to ensure that you're getting the correct desk size. Consider getting a desk with built-in cable management or the ability to turn into a stand-up desk. It's usually a good idea to choose a desk with drawers to store pens, documents, notepads, and any other office essentials you use to stay productive and organized. Having a functional storage system will help prevent clutter in this area.
Apartment Therapy explains some IKEA desk hacks great for any space here.
Chair
You can also find affordable desk chairs at the stores mentioned above, but two other great places to look online are Wayfair and Overstock. Always read customer reviews to get a better understanding of function and comfortability before you make your purchase. You may also want to think about which chair will not only allow you to sit for hours, but one that is also ergonomically correct for your posture. A few other things to consider are if you want your chair to have armrests, wheels, or adjustable height.
You can find Wayfair's top 10 desk chairs here.
Computer Monitor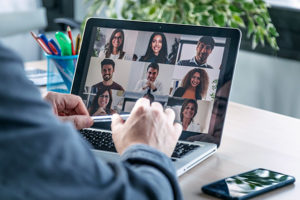 Many people who work from home use a laptop. However, it may be a good idea to invest in a larger monitor now that you're working from home more long-term. Having a dual monitor setup may increase your productivity since it allows you to have multiple programs or tabs open in front of you at once. A computer monitor will also make your home office seem more stationary and provide less temptation to move your laptop to the couch or bed. Additionally, the monitor doesn't need to be the most expensive or fancy one out there. You can find quality, affordable options at Amazon, Best Buy, or your local electronics store.
A highly rated and affordable monitor option on Amazon can be found here for just about $100.
Keyboard and Mouse
If you decide to get an additional computer monitor, then you will also require a keyboard and mouse. There are so many options for both out there, but we recommend prioritizing comfort and ergonomics. Wireless options are also great because they will keep wires from running on and around your desk.
A great ergonomic-friendly wireless keyboard with over 5,000 reviews on Amazon can be found here.
Wi-Fi Connection
Definitely one of the most important requirements of working from home is reliable Wi-Fi. It's worth investing in a quality home Wi-Fi modem and router for optimal speed and the least number of headaches. Check out the Google Nest WiFi router here and see if it's right for your home.
More Items to Increase Productivity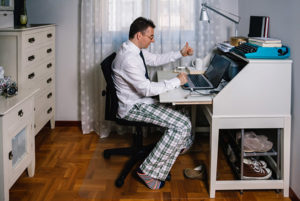 In addition to the essentials mentioned above, some smaller items can help increase your productivity that are not as obvious. Luckily, you can find all the items listed below on Amazon. Of course, there are many places you can search online to find the right ones for you.
Noise-Canceling Headphones
These speak for themselves. If you're working in a home with young children, pets, or even roommates, then noise-canceling headphones are more than worth the money.
Laptop Stand
If you want a dual monitor setup that is more ergonomic, consider getting a laptop stand. This will make your screens closer together in height and keep you from straining your neck.
Desk Lamp
Your home office area may not get a lot of natural lighting, so you may need a desk lamp. Good lighting is essential to prevent eye strain, especially if you need to read paper documents.
Blue Light Glasses
Speaking of eye strain, it's recently become popular to wear blue light glasses while working on your computer or cellphone. Some studies suggest that using blue light glasses helps reduce headaches and eye strain, and increases sleep quality and duration.
Refillable Water Bottle
Staying hydrated is vital for various reasons. Having a large refillable bottle at your desk can prevent you from getting up for a glass as frequently. Try finding a water bottle like this one that has markers on the side so that you can easily track how much water you're drinking per day.
Temperature Control Coffee Mug
If you drink coffee every morning, but not fast enough to finish it before it cools down, you're not alone. There are actually mugs and mug coasters out there that keep your coffee hot longer. This is great if you want to save yourself a trip to the microwave.
Wireless Charging Phone Stand
It really is the little things that make your life easier when working from home. You'd be surprised at how much a wireless phone charger can make a difference, especially if it's also a phone stand. Plus, if your job requires you to use your phone a lot, a wireless charging stand allows you to easily see any notifications that pop up while simultaneously charging your phone, too.
Tips to Increase Productivity
Even with all the necessary tools and helpful gadgets, it's still you that needs to focus in order to be productive while working from home. Here are our top 5 tips:
Stick to a morning routine.
Make a to-do list.
Stay hydrated and eat real food.
Stretch your legs out in the sun.
Set clear rules with anyone else living with you.
For more simple productivity tips, check out this article.
Let Us Know How You Work From Home
Do you have more home office tips you'd like to share with us? Leave a comment on Facebook or Instagram with the tasks that work for you.
---
The information in this article is from various sources. This content is offered for educational purposes only. No warranty or appropriateness for a specific purpose is expressed or implied.