3
minute read
It's hard to follow social distancing guidelines if you're going door-to-door. So, the best way to celebrate Halloween this year isn't by trick-or-treating. Instead, we've listed a few ways your kids can have fun on Halloween night without ever leaving the house. The best part is that you don't have to choose just one activity! Pick a couple to do on October 31st or do one every night leading up to Halloween for an entire week of spooktacular fun.
1. Make a Halloween Dessert
For this activity, the kids can dress up in costumes before creating a Halloween masterpiece in the kitchen! There are so many fun, creative, and simple recipes you can find online. We've listed a few of our favorites below.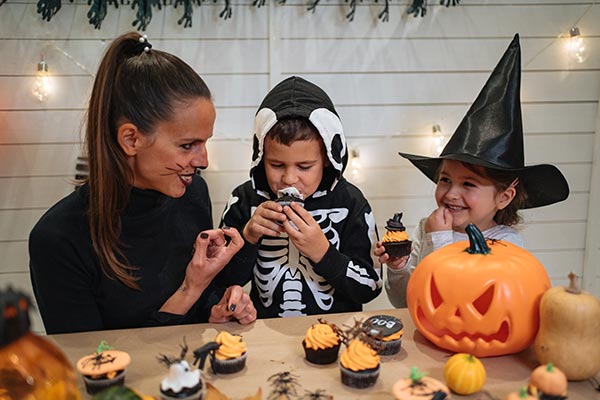 Caramel Apples – These are a sweet Halloween treat that can be dipped and decorated with anything you like. Use black icing and orange sprinkles for a spooky look. Find the recipe here.
Witch Cupcakes – Who doesn't love a good cupcake? These are best made with Halloween music playing in the background. Bust out your favorite frosting and top each cupcake off with a black witch hat. Here's the recipe.
Chocolate Pumpkin Ice Cream Sandwiches – Ice cream sandwiches that taste like Halloween? Sign us up! These are actually super simple to make and definitely a treat that everyone will enjoy. Plus, you can save them in the freezer for later! Find the recipe here.
2. Watch a Scary Movie
Everyone has that one scary movie that they love to watch in October. If you haven't found yours yet, then this year is a perfect time to find one. You may even start a Halloween family tradition. To make this screening even more fun, do some spooky face painting on your kids first. This is sure to get them in the Halloween spirit.
3. Play a Halloween Game
Games are always a good idea because they keep the entire family involved and entertained. Check out a couple of fun game ideas below.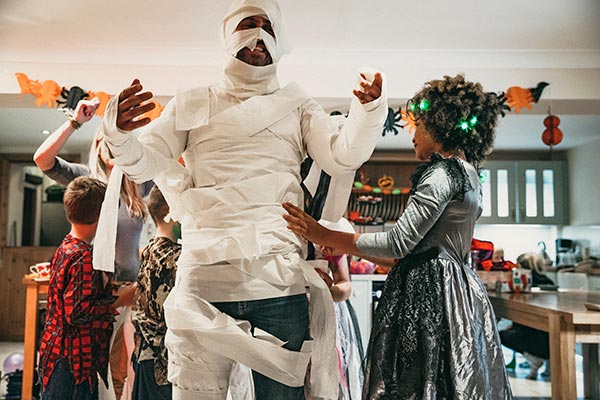 Hot Pumpkin – Do you remember playing Hot Potato as a child? This is the same game, just with a pumpkin instead of a potato! You can use a toy pumpkin, a paper pumpkin, or even a real pumpkin to pass around. Just turn on some Halloween tunes and pass the pumpkin around until the music stops. Whoever is holding the pumpkin is out and the last one to get out, wins!
Best Mummy Contest – Split up into teams of two and choose someone in each team to be wrapped in toilet paper. The goal is to create the best mummy using the least number of rolls. Don't forget to put on a timer, too. The team with the best wrapped mummy is the winner!
4. Go on a Halloween Scavenger Hunt
Gather some Halloween-themed items and hide them around the house. Make a list of all the items and see who can find the most items on the list. Check out your local dollar store for a witch hat, a bat, a broomstick, a ghost, etc. The possibilities are endless with this one, and the kids are sure to have a blast.
5. Do a Tarot Card Reading
For this activity, buy a pack of tarot cards in advance. There are tons to choose from online and there are even books on how to interpret the cards if you want to be really accurate. If you just want to have fun with it, dim the lights and light some candles for a spooky effect. It couldn't hurt to add a crystal ball either. It will definitely be an unforgettable night!
6. Have a Pumpkin Carving Contest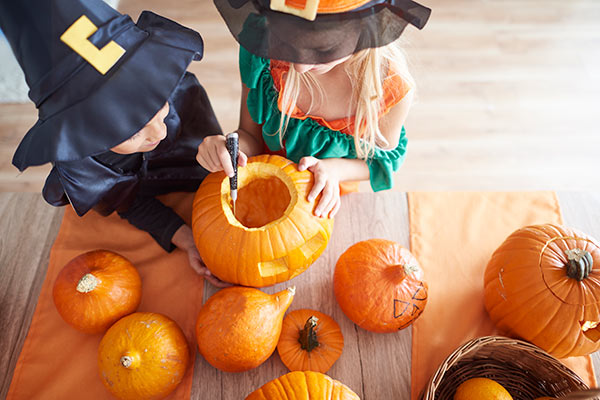 What could be better than a good old-fashioned pumpkin carving contest? Go to your local grocery store or pumpkin patch and choose a few big pumpkins. Stock up on some carving kits and get carving! You can have a theme for the contest or just carve whatever you want. The most unique pumpkin wins!
---
The information in this article is from various sources. This content is offered for educational purposes only. No warranty or appropriateness for a specific purpose is expressed or implied.