3
minute read
It's been a year since the pandemic brought much of our out-of-home activities to a halt. Most obvious, gathering with friends and family, vacations and getaways, shows and live entertainment, school classes and graduations, and for many, even grocery shopping in person. At the same time, millions of businesses have had to reduce their operations significantly. Others have had to temporarily close their doors while looking for resources on reopening their businesses. Sadder still, hundreds of thousands of businesses have gone under. However, if you've asked yourself, "Should I start a business?", you're definitely not alone.
New Businesses on The Rise
An interesting trend has emerged—the number of new businesses have been on the rise. Why? According to this Wall Street Journal article, it's due to a mix of necessity and opportunity. Should you start a business? Many would answer with a "Yes." Scott Galloway, entrepreneur and Professor of Marketing at NYU Stern School of Business, summarizes it this way:
Put simply, the best time to start a business is on the heels of a recession. And while pandemic economics haven't resulted in a garden-variety recession — in either its duration (short) or its recovery (K-shaped) — there are factors that make this the best time to start a business in over a decade.
(from the article: The Sonic (Entrepreneurship) Boom)
Trends
According to Google (where we all take our questions), the diagrams below illustrate interest over time. The numbers represent search interest relative to the highest point on the chart for the 2-year timeframe between April 2019-April 2021. A value of 100 is the peak popularity for a search term. A value of 50 means that the term is half as popular, and so on.
Search Term: How to start a business?
Most of 2019 and Q1 of 2020 (right before mid-March when things "got real"), people's interest in starting a business was mainly between 50-75. After that point, the trend shows interest consistently hovering above 75 with a couple of peaks hitting 100.
Search Term: Business name generator
Coming up with a business name is no easy task. It's important to have a unique, catchy name that captures the essence of a business and remains relevant as it grows. Therefore, it's no surprise that aspiring business owners are looking for a little help, turning to online business name generators. Similar to the chart above, before the end of Q1 in 2020, search interest was much lower. It was mainly between 25 and 68, much of the time hovering below 50. After Q1 2020, the US middle of wide-spread lockdown, we see an increase in search interest for business name generators.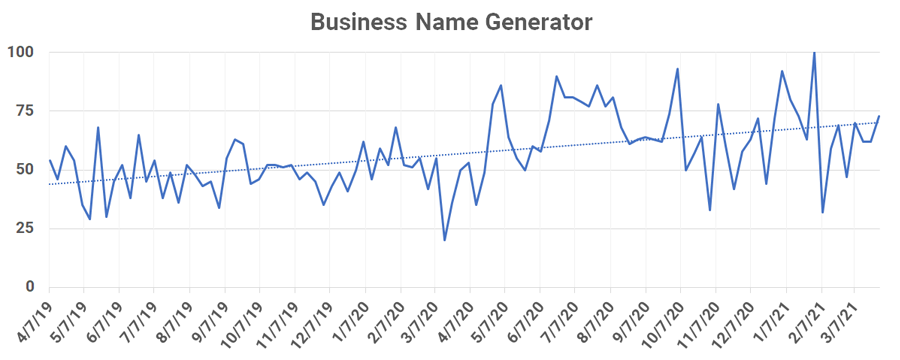 Search Term: Is business insurance…?
Along with the increased interest in starting a business (as seen in the chart below) comes a slew of questions surrounding finances, marketing, management, legal compliance, and more. As a result, those interested in starting a business want to learn about Business Insurance, common claims and prevention, how to purchase coverage, and other business insurance topics.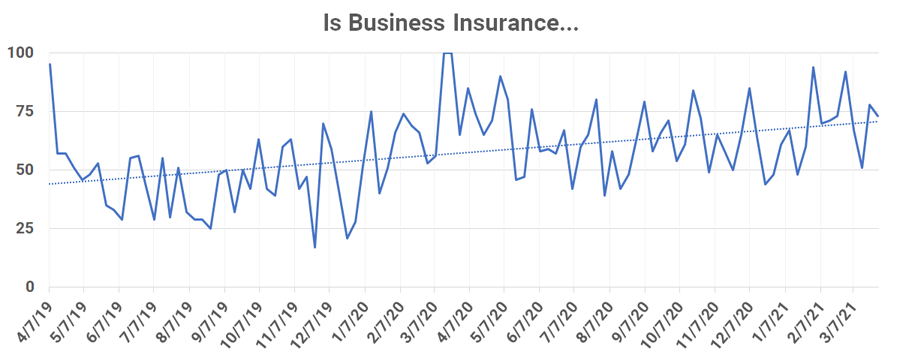 So, if you're one of the many who've been contemplating starting a business, it might be the right time for you. Continue to do your research—the US Small Business Administration (SBA) continues to be an outstanding resource to help plan, launch, manage and grow a business. And, when the time comes, you can rely on licensed Business Insurance experts to help assess your needs and protect your business and livelihood.
---
The information in this article is obtained from various sources. This content is offered for educational purposes only. It should not replace the advice of a qualified professional. No warranty or appropriateness for a specific purpose is expressed or implied.