3
minute read
Helpful Tips When Considering Boat Insurance
Lounging on your boat on a clear blue lake can be a very relaxing experience.
Unfortunately, getting boat insurance can be just the opposite. Often, it can be like navigating through very choppy and murky waters.
Here Are Five Tips to Help Clear Up the Waters
#1) Do Not Assume Your Homeowner's Insurance Will Cover Your Boat
You may have heard that homeowner's insurance will cover some boats, and depending on the policy, this is true. However, the coverage applies to only very small boats and is severely limited in amount.
For this reason, you need to check your homeowner's insurance carefully and make sure you have boat insurance that fills in the gaps.
#2) Know the Limits of Your Policy
Boat insurance is much like other kinds of insurance in that there may be geographical limits that apply. Just like your car won't be insured if you cross into another country, your boat may not be insured if you are using outside such geographical limits. Therefore, you must be sure to ask about these limitations when you speak with an insurer. It can make the difference between having a claim paid and being left with no wind in your sails financially from a denial of coverage.
#3) Protect Yourself Against The Uninsured
As a rule of thumb, if you get on the road and get into an accident, you can be pretty sure that the other person involved will also have insurance. After all, it's the law.
The same does not always apply when out on the water. California has no legal requirements for boat owners to have boat insurance before pushing off, and many choose not to get their boats insured.
Uninsured boater insurance comes in two types: One to protect your boat, and the other to protect you in case you are injured in a boat accident. The same as you wouldn't leave the marina without life jackets don't go on the water unprepared for the unexpected.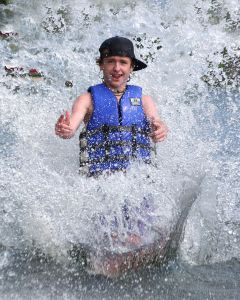 #4) Make Sure Your Coverage Has Water sport Liability
Water-skiing and other water sports are a lot of fun, but just like every other motor sport, they come with a great deal of danger. If something goes wrong and your boat is involved, you may be liable, even if you couldn't prevent what occurred. Water sport liability coverage lets you know you can have fun on the water and have the comfort of knowing you are covered no matter what happens, absent any acts that may be specifically excluded by your policy.
#5) Make It Clear Who Will Be Operating the Boat
Some policies work on the assumption that only you will be driving your boat, but this may not always be the case. Your spouse could take control of the wheel for a few minutes, for example, or you could have a friend that you bring on fishing trips operate your boat. Your boat insurance policy may not cover multiple operators, so discuss with your insurance agent who will be driving the boat and what coverage you'll need in that instance.
For all your boat insurance needs, come to AIS. AIS has been offering California comprehensive insurance in a number of areas for nearly half a century. If you need reliable insurance for your boat, your home, your car, your business, or anything else, make AIS your first call.
This content is offered for educational purposes only and does not represent contractual agreements. The definitions, terms and coverage's in a given policy may be different than those suggested here and such policy will be governed by the language contained therein. No warranty or appropriateness for a specific purpose is expressed or implied.