3
minute read
April Fool's Day 2014 has now come and gone. Hopefully, you emerged from this "prankful" holiday relatively unscathed. But some people in the Bay Area who thought they had dodged the proverbial bullet were stunned when they walked outside on the Monday morning after April Fool's Day to find themselves victimized by the latest prank that has invaded the U.S.
What's this prank, you ask? Smart Car tipping.
 
It's just like it sounds: an unknown number of people using nothing but their bare hands to lift one side of a Smart Car up off the ground and push it over onto its side or roof. Four residents of the Portola and Bernal Heights areas of San Francisco discovered their Smart Cars tipped over between the hours of 1am and 9am on April 7. No one knows precisely what prompted these incidents or whether they were completely random.
Actually, this prank isn't new. Its roots can be traced back to Europe, where smaller vehicles have been zipping around streets for decades. The first actual Smart Car wasn't released until 1998, and the first reported instance of one of these vehicles being tipped over was from Canada back in 2005. The actual trend took off in 2009 in the Netherlands, where numerous Smart Cars were tipped over low guardrails and dumped into Amsterdam canals. Another one of these vehicles was caught on camera being tipped over during the riots that followed Vancouver's loss in the Stanley Cup Finals in 2011. There was even a satirical Facebook page called Smart Car Tipping that was live for a while.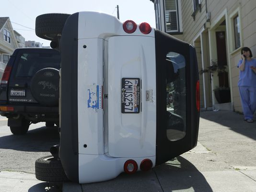 For some, these incidents might elicit a chuckle or two. But it's definitely not a laughing matter for the owners of these vehicles. Tipping Smart Cars often causes windows to crack or shatter, taillights or headlights to break, and dents to form on the side that was tipped over. In addition to the costs of these repairs, the owners probably have to have the entire vehicle checked to see if there are any leaked fluids or structural damage.
There aren't any hard-and-fast guidelines in place to prevent your Smart Car from being tipped over. However, there are a few tips to minimize the chances of it happening to you:
Invest in an auto alarm which has motion sensors that trigger an audible alert if the car is moved or jostled.
Try to refrain from parking on an incline if possible. This could facilitate the act of car tipping.
If you cannot park in a garage at night, park in a well-lit area that isn't out of the way. (One with surveillance cameras would be ideal.)
Whenever possible, park with the passenger side next to a wall or large object (like a pole). That way, the car cannot be tipped on its passenger side, and it may be difficult to tip it onto the other side if the vandals cannot access the right side of the vehicle.
If a wall is not available, park next to a high curb. It may deter hooligans, because they either have to bend down further to reach the bottom of the car on the curb side – or, if they stand on the driver's side, they would have to use more strength to push the car over the high curb.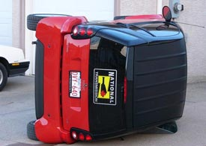 Of course, the best defense against damages sustained from Smart Car tipping is to invest in a comprehensive insurance policy, which covers all non-crash related mishaps including vandalism, theft, and weather damage. Auto Insurance Specialists can help you find suitable comprehensive coverage at an affordable price, just like they've been doing for Californians for 45 years. So if you're looking to upgrade your auto insurance, call AIS toll-free at 888-772-4247 or visit the AIS website today.
Image credits: thebolditalic.com, usatoday.com, boingboing.net
Written by Chris Martin
The information in this article was obtained from various sources. This content is offered for educational purposes only and does not represent contractual agreements, nor is it intended to replace manuals or instructions provided by the manufacturer or the advice of a qualified professional. The definitions, terms and coverage in a given policy may be different than those suggested here and such policy will be governed by the language contained therein. No warranty or appropriateness for a specific purpose is expressed or implied.