3
minute read
The precious state of Georgia is the perfect place for peanuts, pecans, and peanuts. From the grandeur of Stone Mountain to the tradition of the Masters golf tournament to the bustling city of Atlanta, Georgia is full of beauty and Southern charm. And you can see it all by car on the state's miles of highways and other roads.
Is Georgia Auto Insurance Expensive or Inexpensive?
But before you do that, you have to obtain auto insurance, because state law prohibits you from driving without it. Georgia's minimum liability insurance limits are $25,000 for bodily injury per person, $50,000 bodily injury per accident, and $25,000 property damage. Compared to other states, Georgia is generally in the middle of the pack when it comes to what drivers actually pay for auto insurance policies at around $1,090 per year.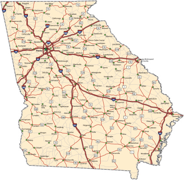 But what about within the Peach State itself? What kinds of variances are there between Georgia cities when it comes to auto insurance premiums?
A website called ValuePenguin decided to find out. The site research auto insurance rates in thirty different cities for a single, 30-year old male who drives a 2010 Toyota Camry about 10,000 miles each year. For purposes of this study, the coverage that the straw man obtained was for higher-than-minimum liability limits and also consisted of comprehensive, collision, and uninsured/underinsured motorist policies.
Cheapest Auto Insurance in Georgia
After crunching all of the numbers, the winner in the "cheapest Georgia auto insurance" sweepstakes was the city of Valdosta. Drivers who live in the Lowndes County seat pay an annual premium of just $885, which is more than $200 below the state average. In second place was Georgia's fifth-most populous city Athens. The home of the University of Georgia is also where drivers pay just $926 for auto coverage on average. There was a tie for third place in the survey at $983 per year between the far-northern city of Clayton and the southwestern city of Albany. The only other city whose drivers paid less than a grand annually for auto insurance is the coastal city of Brunswick at $989 per year. Rounding out the top ten least expensive Georgia cities for auto insurance are Hinesville ($1,012), Carrollton ($1,014), Cumming ($1,032), Americus ($1,034), and Dawsonville ($1,035).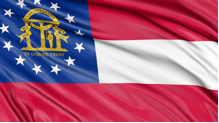 Costliest Auto Insurance in Georgia
But what about the other end of the spectrum? Who pays the most for auto insurance in Georgia?
You probably guessed the answer correctly: drivers who live in the state capital. As the most populous city in Georgia, Atlanta residents pay about 16% above the state average for auto insurance, which comes out to around $1,263 each year. Close by in second place at $1,248 was the nearby city of East Point, which sits just northwest of Hartsfield International Airport. The Baldwin County city of Milledgeville is third on the most-expensive list at $1,246, followed closely by the Bibb County seat city of Macon at $1,243. Then there's a significant drop-off to fifth-place McDonough, a suburb of Atlanta, which has an average annual premium of $1,171. Rounding out the top ten most expensive Georgia cities for auto insurance are Covington ($1,170), Columbus ($1,157), Conyers ($1,150), Alpharetta ($1,149), and Winder ($1,134).
You Can Reduce Your Georgia Auto Insurance Premium
It's important to note that in the real world, Georgia auto insurance rates can vary widely from driver to driver and company to company. In other words, there's a strong possibility that if you do a little searching, you can find a lower rate for your auto coverage in the Peach State.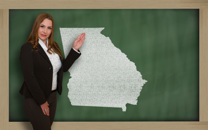 Auto Insurance Specialists has been helping drivers all across the country save money on their auto insurance for over four decades. If you live in Georgia and you want to lower your premium, go to the AIS website and answer a few questions. You'll be presented with multiple quotes on auto insurance in just minutes – and you could potentially save hundreds of dollars a year just by switching policies. For more information, visit AISInsurance.com or call AIS directly at 888-772-4247.
Written by Chris Martin
The information in this article was obtained from various sources. This content is offered for educational purposes only and does not represent contractual agreements, nor is it intended to replace manuals or instructions provided by the manufacturer or the advice of a qualified professional. The definitions, terms and coverage in a given policy may be different than those suggested here and such policy will be governed by the language contained therein. No warranty or appropriateness for a specific purpose is expressed or implied.