3
minute read
Summer is all about getting out and enjoying the warm, sunny weather while it lasts, but before you kick off your shoes and hit the beaches it is important to make sure your home is safe and protected.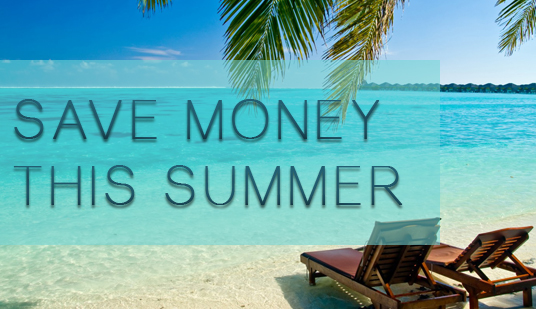 Don't let the excitement of the summer season prevent you from protecting one of the most valuable possessions you own – your home. Take a few moments to go over these summer home tips and you will have a safe, energy-efficient home to come back to after a long day out in the sun.
Making a Home More Energy Efficient for the Summer
It is always nice and refreshing to come home to a nice cool home after a day at the beach or out in the sun. Unfortunately, running an air conditioner during the summer season can really increase your energy bill.
Luckily, there are a few things homeowners can do to make their home more energy efficient during the summer season. The following are some easy energy efficient tips for a home that could potentially save you hundreds of dollars:
– Check for possible leaks around the windows and doors – this will help keep the air conditioner running smoothly

– Clean the filters of the AC unit regularly

– Turn off lights when not in use

– Purchase and use a programmable thermostat – this will keep the temperatures even throughout the day

– Install window shades to keep sunlight out of the rooms and prevent them from heating up
Preparing for Summer Emergencies
Summer is supposed to be filled with fun and excitement, but it can occasionally be filled with the occasional emergency situation. Emergency situations are impossible to predict, so it is best to plan for the worst and hope for the best.
The following are some tips on how homeowners can prepare for all types of summer emergencies:
– Keep a first aid kit in the home

– Create an evacuation route with your family for fires, floods, and earthquakes

– Review emergency procedures with the entire family to keep them prepared

– Keep records of important information, such as emergency numbers, insurance policies, and a list of personal belongings

– Review information on the proper emergency preparation procedures for lightning storms, floods, earthquakes, etc.
Stay Protected This Summer with the Proper Insurance Policy
Even with all the precautionary measures you take to stay safe this summer, it still might not be enough. Purchasing an insurance policy that provides protection against some of the most common summer emergencies can help you recover from some of the many types of situations you may encounter.
Some types of insurance policies to consider purchasing include:
– Renters insurance

– Homeowners insurance – typically includes fire and water damage coverage

– Flood coverage

– Earthquake coverage

– Umbrella insurance
Don't be caught in a situation where you are uninsured or underinsured this summer. Speak to one of our Specialist today to explore various insurance policies that may be available to you. Our Specialist will shop multiple insurance providers to find which one offers the best rates for the coverage you need.

The information in this article was obtained from various sources. This content is offered for educational purposes only and does not represent contractual agreements, nor is it intended to replace manuals or instructions provided by the manufacturer or the advice of a qualified professional. The definitions, terms and coverage in a given policy may be different than those suggested here and such policy will be governed by the language contained therein. No warranty or appropriateness for a specific purpose is expressed or implied.