2
minute read

Summer is here, which means plenty of free weekends to get out and enjoy life. Make this summer one full of memories by trying a new activity or putting a new spin on an activity you love. While you're out having a great time, remember to think safety first.
1. Car Camping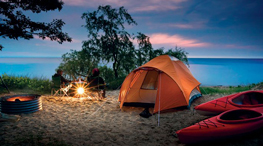 Car camping doesn't involve sleeping in your car. It means bringing your car and gear to the campsite and setting up there, instead carrying it in on foot. One of the joys of camping is going for a hike in nature. Just be sure to wear sturdy shoes and to bring and wear insect repellant and sunscreen. Learn to recognize and avoid dangerous plants on your hikes, such as poison ivy, to avoid getting a rash.
2. Camping in an RV
If the idea of sleeping in a tent or cabin doesn't appeal to you, RV camping might be just the thing. Your RV can feel like a palace compared to a small tent. Plus, plenty of RVs let you enjoy the comforts of home, such as satellite TV and a shower. Before you set out on your camping trip, be sure to secure everything in the RV, including kitchen cabinets and drawers. You don't want to hit a bump in the road on your trip and have items go flying.
3. Jet Ski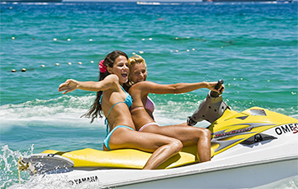 A jet ski offers the excitement of water skiing or boating in a compact form. On a jet ski, you get to glide across the water, feeling it spray in your face. If you're just learning how to use a jet ski, take things slowly. You can still enjoy the ride, even if you're only going 5 miles per hour. Steer clear of swimmers and other boats in the water and remember to wear your life jacket.
4. Water Skiing or Wakeboarding
Water skiing, and its newer, slightly trendier cousin, wakeboarding, are fun ways to enjoy a day out on the water and to make good use of a motorboat. Both are slightly thrilling yet generally safe experiences that are easy enough for beginners to try. Remember to wear a life jacket when skiing or wakeboarding, or any time you climb on a boat. Have someone act as spotter, too. A spotter will tell the driver when you've fallen or if you're ready to stop.
5. Going Off-Road
An ATV, also known as a four-wheeler, lets you travel places you can't get to in a car or on a bike. Since you're traveling over dirt and rocky terrain, it's a different way of exploring the great outdoors. Always wear a helmet when riding and follow the directions in the owner's manual, to prevent the ATV from tipping.

No matter where your summer takes you, remember to wear sunscreen and follow any safety advice given to you by lifeguards or park rangers.
The information in this article was obtained from various sources. This content is offered for educational purposes only and does not represent contractual agreements, nor is it intended to replace manuals or instructions provided by the manufacturer or the advice of a qualified professional. The definitions, terms and coverage in a given policy may be different than those suggested here and such policy will be governed by the language contained therein. No warranty or appropriateness for a specific purpose is expressed or implied.