3
minute read

Did you know nearly 12 percent of Americans moved homes between 2012 and 2013, according to the US Census Bureau? If you're going to be among that 12 or so percent this year, there are a few things you can do before and during your move to make it a little less of a hassle and a little bit more enjoyable. Planning is everything when it comes to moving, so the sooner you start getting ready to relocate, the better things will go.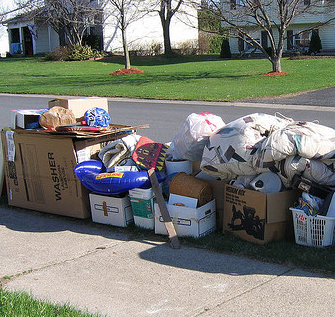 Pare Down Your Possessions
One side benefit of moving is that it gives you a chance to really examine the stuff you own and decide whether or not it's worth moving from point A to point B. When deciding whether you're going to take something to your new home or not, ask yourself when you used it last and whether you'll need to use it again in the next few months. If the answer is more than a few months ago and no, you can safely donate or discard the item. Another thing to ask yourself when reviewing the stuff you own is whether the things are nearing the end of their useful life. You probably don't need to bring along a pair of holey jeans or a set of bedding that's torn and stained.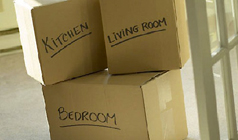 Organize Organize Organize
Make sure your unpacking process goes as smoothly as possible by labeling your boxes. Either print out labels or use a sharpie to put what is in the box, if it is fragile, and what room it belongs in. This will make unloading the truck or trailer a breeze. Remember to label on the side of the box and not the top so you can still see the label when boxes are stacked.
Research Your Moving Company
If you'll be trusting your stuff to a moving company, find out as much as you can about the company before you sign or agree to anything. Don't just get references from friends, double check to confirm that the company is licensed by the US DOT, especially if you are moving from one state to another. You can also check up on the company by looking it up on the Better Business Bureau.
Insure Your Move
Typically, when you work with a moving company, your possessions are covered in one of two ways. If you purchase full value protection coverage from the mover, your replacement value of your stuff is covered. In some cases, the insurance limits coverage of valuable items, such as jewelry.

Another insurance option is released value. While released value insurance costs the least, it also offers the least amount of coverage, just 60 cents per pound of possessions. If you choose released value, you might want to purchase third party insurance in case something happens to your stuff en route. Your homeowners insurance may or may not cover your move, so make sure you review your policy before you purchase third party insurance.
Pack a "Right Away" Box
When you get to your new home, there will be some things you want to focus on first. Make things easy on yourself by packing a "right away" or "open first" box. Put a change of clothes for each family member in the box, as well as clean towels and fresh bedding. That way, when you get to your residence, you won't have to open box after box before getting a good night's sleep.
Moving day doesn't have to be a stressful event! If you are well organized, prepared, and insured, moving can be fun. If you have questions regarding your insurance coverage during your move an AIS Specialist would be happy to find you the best plan- please call (888) 772-4247
---
The information in this article was obtained from various sources. This content is offered for educational purposes only and does not represent contractual agreements, nor is it intended to replace manuals or instructions provided by the manufacturer or the advice of a qualified professional. The definitions, terms and coverage in a given policy may be different than those suggested here and such policy will be governed by the language contained therein. No warranty or appropriateness for a specific purpose is expressed or implied.