3
minute read
Thanksgiving is a wonderful time of year for celebrating with family over a delicious meal! AIS has put together a couple of our favorite recipes for the holidays your family is sure to enjoy: Sweet Potato Casseroles, Traditional Stuffing and Pecan Pie
Mini Sweet Potato Casseroles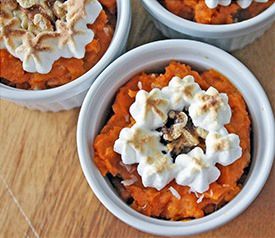 Ingredients:
1 lb sweet potatoes, peeled and cubed
2 tbsp unsalted butter
1/4 cup packed light brown sugar
1/2 tsp salt
1/2 tsp ground cinnamon
2 tbsp Bakers Sweetened Coconut
1 cup Jet-Puffed Mini Marshmallows

Directions:
Bring a pot of water to a boil on the stove. Add the sweet potatoes and cook for 15 minutes or until fork tender. Drain well.
Preheat the oven to 375 degrees.
Stir together the sweet potatoes, butter, light brown sugar, salt and ground cinnamon. Then mash well. Stir the coconut into the sweet potato mixture.
Divide the sweet potato mixture evenly among four custard cups. Press down so that the potatoes are in a firm layer. Divide the marshmallows among the custard cups, sprinkling them on top of each. Place the custard cups on a baking sheet.
Bake for 10-15 minutes until the marshmallows are golden brown. Serve hot.
Traditional Stuffing from Rouxbe Kitchen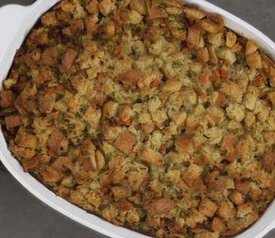 Ingredients:
2 loaves French bread (28 cups cubed)
2 large onions
1/3 lb unsalted butter
8 ribs celery
3 large carrots
30 fresh sage leaves
8 sprigs fresh thyme
2 tsp poultry seasoning
1 tbsp kosher salt
2 tsp freshly ground black pepper
4 large eggs
5 cups stock (turkey or chicken)
1 tbsp unsalted butter
Directions:
To begin the stuffing, cut the bread into 1/2″ -inch cubes. You can let the bread dry out, uncovered on the counter, for up to 24 hours.
To prepare the stuffing, preheat your oven to 350° degrees Fahrenheit.
Dice the onions. Melt the butter in a large fry pan over medium-low heat. Sweat the onions while you dice the celery and carrots and then add to the pan. Chop the fresh sage and thyme. Add all of the herbs and spices and let cook until translucent.
Once the vegetables are cooked, add them to the bread and toss to combine. Whisk the eggs and stock together in a separate bowl. Pour the mixture, a bit at a time, over the bread and toss. Butter a large casserole dish, add the stuffing and cover.
Cover and bake the stuffing for 30 minutes. Then remove the lid and bake uncovered for an additional 30 minutes.
Once the stuffing is golden brown, remove from the oven and let cool slightly before serving.
Pecan Pie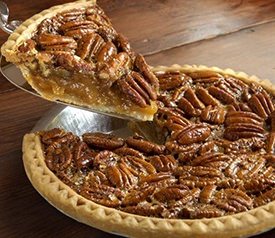 Ingredients:
1/2 recipe (1 disk) Pie Dough, rolled out and fitted into a 9-inch pie plate
4 large eggs
1 cup light corn syrup
1/3 cup packed light-brown sugar
1/4 cup granulated sugar
4 tablespoons unsalted butter, melted
1 teaspoon vanilla extract
1/2 teaspoon salt
3 cups pecan halves
Lightly sweetened whipped cream, for serving (optional)
Directions:
Preheat oven to 375 degrees. with rack set in lowest position.
Using kitchen shears or a paring knife, trim dough to a 1-inch overhang. With floured fingers, fold overhang under itself to form a rim; pinch between thumb and forefinger to form a uniform edge around rim of pie plate. Crimp with fingertips. Transfer dough-lined pie plate to refrigerator.
Make filling: In a large bowl, whisk eggs, corn syrup, sugars, butter, vanilla, and salt until smooth; mix in pecans. Pour mixture into chilled pie crust; place pie plate on a rimmed baking sheet. Bake until filling jiggles slightly in the center when gently shaken, 50 to 60 minutes.
Cool pie completely in plate, 5 to 6 hours. Serve with whipped cream, if desired.
Happy Thanksgiving from the AIS family to yours!