2
minute read

Crisp air, colorful leaves and pumpkin decorations signal the arrival of fall. You'll want to celebrate with three fall recipes that tempt your taste buds and use abundant fall produce. Which recipe will you try first? Roasted Chicken, Butternut Squash or Cheesy Potato Soup
Roasted Chicken With
Caramelized Onions and Fall Fruit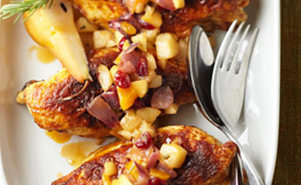 Fall fruits like apples and pears taste delicious raw, but we also like to combine them with chicken. You'll enjoy this entree, too, any night of the week.
RECIPE
2 pounds chicken breast halves
4 teaspoons chicken roasting rub
2 cups onions, chunked
2 tablespoons butter
2 tablespoons packed brown sugar
1 medium tart apple, cored and coarsely chopped
1 medium pear, cored and coarsely chopped
1/3 cup dried cranberries (can substitute dried cherries, currants, raisins, apricots or figs)
2 cloves garlic, minced
1-1/2 teaspoons fresh rosemary
1/2 teaspoon ground black pepper
1/4 cup cranberry juice (can substitute apple cranberry juice or pear nectar)
2 tablespoons white balsamic vinegar

Sprinkle the chicken with the roasting rub and arrange it in a shallow baking pan. Roast the uncovered chicken at 425 degree F for 30 to 35 minutes. Meanwhile, cook the onions in butter until they're tender. Add brown sugar and cook 5 more minutes. Add apple, pear, cranberries, garlic, rosemary and pepper and continue to cook for five more minutes. Stir in the juice and vinegar, simmer 2 to 4 minutes, spoon over the baked chicken and serve.
Butternut Squash Lentil and Wild Rice Stew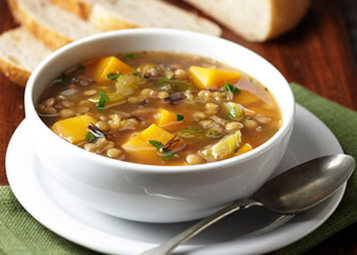 Hot stew warms you from the inside out. Prepare this particular recipe in the morning, and then spend the day raking leaves or decorating pumpkins as the stew cooks in your slow cooker.

RECIPE
2 pounds butternut squash, peeled and quartered
1 cup chopped onion
1 cup sliced celery
1 cup dry lentils, rinsed and drained
2/3 cup wild rice, rinsed and drained
4 cups chicken broth
2 10.5-ounce can condensed French onion soup
1-1/2 cups water
1 teaspoon dried, crushed thyme
3/4 teaspoon ground pepper

Combine all the ingredients in your slow cooker. Set it on low and cook the stew for seven to eight hours.
Cheesy Potato Harvest Soup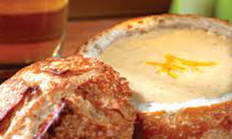 Hearty and filling, this soup is easy to customize with whatever fall produce you have on hand. We enjoy rounding out the meal with warm bread and fresh pumpkin pie, too.

RECIPE
6 cups of peeled and chopped white potatoes
2-1/2 cups water
1/2 cup chopped onion
2 chicken bouillon cubes
1/4 teaspoon ground black pepper
1-1/2 cups shredded American cheese (6 ounces)
1 12-ounce can evaporated milk
Bacon, corn, carrots, peas, celery (optional)

Combine everything except the cheese and milk into your slow cooker. Cook on low for seven hours before stirring in the cheese and milk. Continue to cook for another hour and serve.