2
minute read
For our second installment celebrating National Nutrition Month, our blog is turning its focus from healthy snacks to healthy school lunches to pack for your kids. These lunches cannot only be packed ahead of time, but they also are sturdy enough to withstand the backpack adventures.
The perfect thing about bento lunches is that not only are they sturdy, but they also keep the food separated from each other. One example is the egg salad bento box: Spoon the egg salad into one section of the box and enjoy with cocktail bread and veggies. Toss banana and blueberries with yogurt to keep the bananas from turning brown, and mix some chocolate chips and pistachios as an energizing snack.
Wraps
Wraps can be favored over sandwiches because not only are the neater and easier to eat, but also the wraps contents are kept together more so than a regular sandwich or sub. For fresh ideas, add some turkey with fresh corn kernels, tomatoes, cheddar cheese and lettuce to fill these hearty wraps. Serve with some hummus and carrot sticks for a quick and easy school lunch.
Pita bread is the ultimate sandwich maker because it keeps all the contents in one area with no place to escape. For a ham and cheese pita, take some thin slices of honey ham and about two teaspoons of cheddar cheese, bake for 5 minutes on 450 degrees, and you have toasty sandwich that will stay together in your child's lunch.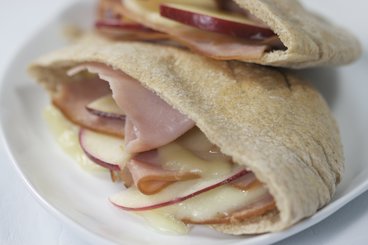 Lunchables
Have you ever heard of Lunchables? They are "to-go" lunches filled with artificial flavors and preservatives. Yuck. Instead, you can make you child a healthy Lunchable with a few simple ingredients and a bento box. Grab some organic turkey breast, whole-wheat crackers, juice box, raspberries, and an unsweetened applesauce pouch for the perfect lunch on the go.
School lunches can seem like just another chore, but with some planning and preparation, they can be a grab-and-go step to your busy morning. A creative school lunch can help to keep your child's school days exciting and interesting!
The information in this article was obtained from various sources. This content is offered for educational purposes only and does not represent contractual agreements, nor is it intended to replace manuals or instructions provided by the manufacturer or the advice of a qualified professional. The definitions, terms and coverage in a given policy may be different than those suggested here and the language contained therein will govern such policy. No warranty or appropriateness for a specific purpose is expressed or implied.