3
minute read
The daily work grind can be daunting on anyone's energy level—and dinnertime. As more and more people are depending on the drive-thru in order to get a quick meal, it's important to make dinner both healthy and convenient. For the third installment of National Nutrition Month, AIS has three nutritious dinner ideas that only take thirty minutes or less to complete.
Sweet and Sour Chicken with Rice from MomsWhoThink.com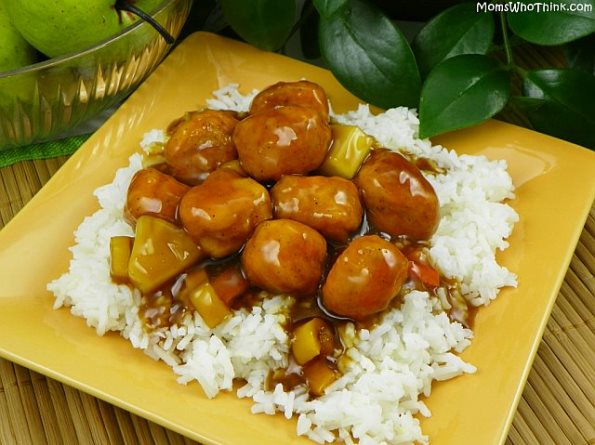 Ingredients:
1 10-ounce package frozen batter dipped chicken nuggets
1½ cups quick cooking rice
1 8-ounce canned pineapple chunks
1 large green sweet pepper, cut into 1-inch pieces
¼ cup vinegar
3 Tablespoons sugar
2 Tablespoons cornstarch
2 Tablespoons soy sauce
½ teaspoon instant chicken bouillon granules
1 8-ounce can sliced water chestnuts, drained
Directions:
Bake chicken nuggets according to package directions and prepare quick cooking rice according to package directions. Drain pineapple, reserving juice while adding enough water to reserved juice to make 1 ½ cups liquid. Pour pineapple juice mixture into a medium saucepan and add sweet pepper. Bring to boiling, reduce heat, cover and simmer for 1 to 2 minutes or until pepper is crisp-tender. Stir together vinegar, sugar, cornstarch, soy sauce, and bouillon granules and stir into mixture in saucepan. Cook and stir over medium heat until thickened and bubbly, then cook and stir for 2 minutes more. Gently stir in chicken, pineapple chunks, and water chestnuts. Heat through and serve chicken mixture over hot cooked rice.
Bacon and Broccoli Rice Bowl from FoodNetwork.com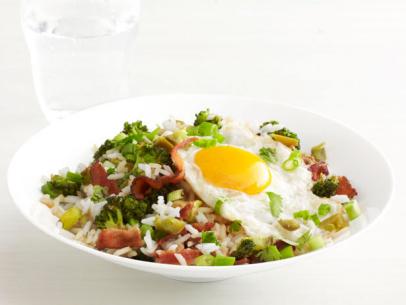 Ingredients:
2 cups white rice
6 slices bacon, chopped
1 head broccoli, florets cut into pieces, stems peeled and sliced
2 tablespoons low-sodium soy sauce
1 1/2 teaspoons sesame oil
4 large eggs
Kosher salt
3 tablespoons chopped fresh cilantro
2 scallions, sliced
2 tablespoons chopped pickled jalapenos
Directions:
Place the rice in a medium saucepan with 2 1/2 cups water. Bring to a boil over medium-high heat, then cover, reduce the heat to medium and simmer until most of the water has been absorbed, about 6 minutes. Reduce the heat to low and cook 12 more minutes. Remove from the heat and let stand, covered, until ready to serve. Meanwhile, cook the bacon in a large nonstick skillet over medium heat until crisp, about 10 minutes. Transfer to a paper towel-lined plate. Pour out all but about 1 tablespoon of the bacon drippings from the pan and increase the heat to medium high. Add the broccoli and cook, stirring occasionally, until charred in spots. Add 3/4 cup water and simmer until the broccoli is crisp-tender and only a few tablespoons of water remain, about 3 minutes. Stir in the soy sauce and 1/2 teaspoon sesame oil. Divide the rice and broccoli among bowls and drizzle with the pan juices. Heat the remaining 1 teaspoon sesame oil in the skillet over medium-high heat. Crack the eggs into the skillet, season with salt and fry as desired. Place an egg in each bowl and top with the bacon, cilantro, scallions and pickled jalapenos.
Braised Chicken with Orange and Scallions from MarthaStewart.com


Ingredients:
1 Chicken (3 1/2 to 4 pounds), cut into 10 pieces, reserve wings for another use
Coarse salt
1 tablespoon olive oil
2 bunches scallions, halved crosswise
3/4 cup halved, pitted green olives
6 strips orange zest, plus 1/2 cup fresh orange juice (from 1 orange)
Directions:
Preheat oven to 450 degrees. Heat a large cast-iron skillet over medium-high until hot but not smoking, about 1 minute. Season chicken with salt and swirl oil in skillet. Working in batches if needed, add chicken, skin side down, and brown on one side, about 5 minutes. Turn chicken, skin side up, and add scallions, olives, and orange zest and juice to skillet. Transfer to oven and cook until chicken is cooked through, 15 to 20 minutes.
These dinner ideas can all be done after a busy day of work or errands, and the leftovers can be packed away for a delicious lunch for the next day. You do not have to rely on the drive-thru lane for quick meals, and it will be easier on your waistband!
The information in this article was obtained from various sources. This content is offered for educational purposes only and does not represent contractual agreements, nor is it intended to replace manuals or instructions provided by the manufacturer or the advice of a qualified professional. The definitions, terms and coverage in a given policy may be different than those suggested here and the language contained therein will govern such policy. No warranty or appropriateness for a specific purpose is expressed or implied.