4
minute read
If you have a smartphone, then you probably never leave home without it. You may rely on it for navigation, to check emails and social media messages, and even for work-related matters, not just personal ones. We've become addicted to these gadgets, no doubt. But, instead of fighting it, why not utilize these pricey phones for all they've got? With the right car apps, your daily routine can become so much easier. You may even save a couple of dollars along the way, too.
Below is a list of the top 10 car apps we think make life a little bit simpler to steer.
1. GasBuddy: IOS, Android -Â Free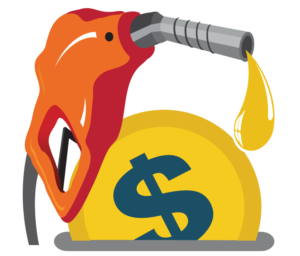 This app is already very popular with people who know that even a 5-cent difference in gas prices can make a big difference to someone who drives many miles a day. No one wants to pay more than they need to, and GasBuddy makes comparing local gas prices very easy. The app's format is user-friendly and much easier to navigate than the website.  It also gives details on different grades, including diesel.
2. Plugshare: IOS, Android -Â Free
If you're planning on buying a plug-in hybrid or fully electric vehicle, you'll want to own this app. PlugShare will point you to the nearest charging stations. It also lets you know which ones are in use and which are public and quick-charge. If you already have a car and worry about finding a charging station when you travel outside your comfort zone, this app will save you some stress.
3. Waze: IOS, Android -Â Free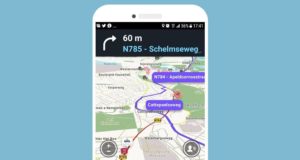 After Google bought Waze, there's no wonder why it took off like it did. There's a reason a huge company like Google would shell out over a billion dollars for this app. Waze is more than navigation because it's community driven. It can pinpoint traffic jams, accidents and gas prices. It also warns you if a cop is nearby. And it's free! How perfect is that?
4. Repair Pal: IOS, Android -Â Free
Do you have trouble finding a reliable mechanic? Or, did you ever wonder what to do if your car broke down on the road far away from your trusted guy? Well, you should buy Roadside Assistance on your insurance policy but the next best thing is the Repair Pal app. Now, you don't have to call around for quotes or pester friends about who does the work on their cars. Just tell the app what kind of car you have and what type of repair you need and it'll give you several mechanics in your area who've gotten good reviews.
5. Honk: IOS -Â $0.99
With this very affordable app you can see where you parked with a GPS pin. If you're that person who can never remember where you parked, you'll never have to wonder where your car is ever again! If you are not good at remembering when your meter will run out, this app will keep track of it and alert you when you're about to run out of time. You can also use Honk to find nearby restaurants, coffee shops, ATMs and more.
6. Car Minder Plus: IOS -Â $2.99
If you're anything like the average car owner, you're not very timely with car maintenance. This app makes doing each task easy. It will remind you when you need service while logging in all repairs and maintenance needs you've already covered. To get the app started, you just need to enter some vital information based on your owner's manual. If you've made a pledge that with your next car you'll be more responsible, don't leave any room for slip-ups. Buy this cheap but amazing app instead.
7. Carcorder: IOS -Â $1.99
You don't have to buy a dashcam if you own an iPhone. With the Carcorder app, your phone becomes a fully functional dashcam capable of giving evidence if you ever find yourself in an accident that is not your fault. You may even capture some lighter moments for social media. Whatever the reason is that you want to have a dashcam, here's your chance. You can change resolutions, track locations, and track your speed with this app, too.
8. Augmented Driving: IOS -Â $2.99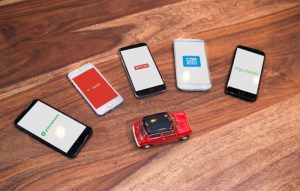 If you refuse to get rid of your aging car and know you tend to get into bumps and accidents pretty frequently, the Augmented Driving app may be just what you need to keep your insurance rates down. This app came out before all the front collision and lane departure warning systems that are now installed in many new cars. The app relies on cameras to distill information, and it works very well, but because it can't sense whether or not you're signaling, the constant alarm can be distracting and irritating. You can, however, disable the audible alarm and just pay attention to it for visual cues when you are actually about to switch lanes. You'll definitely need a windshield mount to use this somewhat archaic but still relevant app.
9. Parker: IOS -Â Free
The San Francisco company Streetline has electronic sensors strategically place in certain neighborhoods of Los Angeles, San Francisco, New York, Boston and Dallas. Parker for iPhone uses the data from the sensors to find you parking. It has a built-in tutorial to show you how to use the intricate app, which can find several types of parking, free spots included. Parker will also tell you when you're close to running out of time on your meter if you end up with metered parking.
10. USA Rest Stop Locator: IOS, Android -Â Free
Who hasn't had to run to the bathroom while stuck on the road? When nature calls, sometimes, there's no denying her so we're all thankful that The USA Rest Stop Locator finds rest stops along interstates, highways, and state highways. The next time you have to go while driving, you can find the nearest bathroom without much fuss. The app has other cool functions too, like marking favorite stops for future visits and it even points out available parking spots in certain areas.
Car Insurance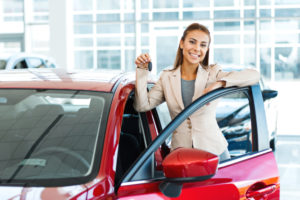 The car apps above are there to help make your life easier. We're here to help make your life easier, too! In fact, our Insurance Specialists can provide you with a free Car Insurance quote in minutes. They will compare rates from top carriers to find you the best coverage at the lowest price. How simple and convenient is that? Call (855) 919-4247 or go online for a free quote today. You might just end up saving hundreds of dollars on your Auto Insurance.
---
The information in this article is obtained from various sources. This content is offered for educational purposes only and does not represent contractual agreements, nor is it intended to replace manuals or instructions provided by the manufacturer or the advice of a qualified professional. The definitions, terms, and coverage in a given policy may be different than those suggested here. Such policy will be governed by the language contained therein, and no warranty or appropriateness for a specific purpose is expressed or implied.