5
minute read
You've probably noticed that there are more electric cars on the road these days – and they look good! The good news is that many of these popular EVs aren't very expensive or require expensive Auto Insurance, either. Just because something is affordable doesn't mean it can't be stylish. What holds true for fashion also holds true for cars. It doesn't have to cost a fortune to shine. An all-electric car can also save you money in gas, the price of which is expected to steadily rise over the next few years. Thankfully, the auto industry is one step ahead of the next price hike. There were more electric vehicles than ever in 2017's lineup of cars and more are expected next year. Some of our favorite manufacturers even got into the game this year, and the reception has been great.
Our top 10 list below was compiled by Mercury Insurance, based on average Auto Insurance rates.
What Do I Need to Know About All-Electric Vehicles?
Some people are still wary of buying an electric car. What if they don't charge adequately or get stuck without a proper station? Do electric vehicles mean higher Auto Insurance rates? The fact is that more and more charging stations are cropping up all around. You just have to take a good look. As for Auto Insurance, much of the equation for a rate depends on the value of the car. Some electric cars are more expensive than others, which makes them more a bit more expensive to insure, especially if you're financing or leasing and are required to buy maximum coverage.
We've compiled a list of the electric cars that are more affordable to insure and that have been getting rave reviews. For instance, BMW is offering incredible leasing incentives that make the all-electric BMWi3 more affordable than you'd think. While you will be required to obtain higher Liability limits when you lease, your rate will be relatively low compared with other electric vehicles in its class. If the price is still too steep for your liking, we added lower price points to the list. For example, the VW e-Golf and the Fiat 500e. American companies are also in on the electric craze, so if you want to buy domestic, Ford makes it on our list too. And our #10 pick is selling so well that Tesla has had to raise money to fund its production demand.
This list below was compiled according to average Auto Insurance rates from Mercury Insurance. Auto Insurance quotes for all of these cars are available when you call an Insurance Specialist at (855) 919-4247.
#10 Tesla Model 3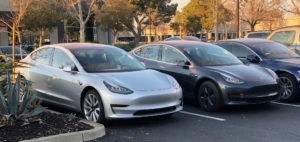 Tesla's popularity is reminiscent of early Apple computers so it's not surprising that this more affordable, electric model is in such great demand. This affordable model starts at $35,000 (before incentives) and has the highest safety ratings. The Model 3 claims to have the quickest acceleration, the longest range and also boasts that it's the "safest car ever." The way these cars are selling, it seems that people agree.
#8&9 tied BMW's i3
BMW's all-electric vehicle promises performance, design, innovation and efficiency. Best of all, the incentive is to lease for $289 a month! The MSRP is $42,400 so financing to own will cost you more. Reviews say that the car handles well due to its low center of gravity and accelerates exceptionally well, too. Its battery range is impressive at 114 miles.
#8&9 tied Hyundai IONIQ Electric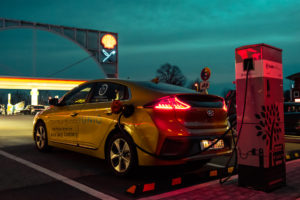 The fully electric option is efficient, comfortable and handles quite well. Unfortunately, it's currently only available to California residents. The rest of the country will just have to wait to drive this compact 5-door hatchback. The hybrid version first appeared in 2016 and its success has brought us the all-electric IONIQ. This car has a range of 124 miles with plans for Hyundai to boost that range to 200 miles by 2018! The MSRP starts at $29,500.
#7 Ford Focus Electric
This all-American 5-door hatchback has a 107-mile range and boasts a comfortable, familiar interior. People find this car to be fun to drive and fast-charging. Unfortunately, this popular electric contender is still only sold in limited numbers and in specific regions, so run out and grab one before they sell out. With this car, you may qualify for a $7,500 federal income-tax credit and, if you live in California, a $2,500 rebate! The MSRP on this vehicle starts at $29,120.
#6 Mitsubishi i-MiEV
Caranddriver.com compared this amazing car to a computer mouse. Yes, this car is as cute as a bug and it's the least expensive electrical vehicle sold in the U.S. But as with most Mitsubishi products, the price tag (starting at $23,845) may be cheap but the car's production is not. The i-MiEV has an 84-mile range and got 4 out of 5 safety stars from the NHTSA. While it tends to lag in speed compared with its competitors on the list (namely the Fiat 500e and the Nissan Leaf), for the low sticker price, you really can't beat this car.
#5 Smart Fortwo Electric Drive
If you want to own a piece of history, look no further! The Smart Fortwo also comes in a cabriolet model, which makes it the first electric convertible in the world. The SmartFortwo Electric is being touted as the perfect 'city car,' so if you're used to being stuck in traffic, you'll understand why this car makes sense in cities like Los Angeles. This Smart Fortwo boasts a 100-mile range and the starting price of $25,000 is pretty hard to beat.
#4 Volkswagen e-Golf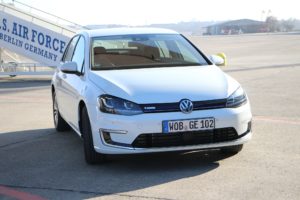 If you're a VW fan, look no further when shopping for an electric vehicle. The e-Golf boasts a 125-mile range that can compete with luxury models. This car is just as impressive in handling and design as all of Volkswagen's models and will not disappoint those looking to have a great time behind the wheel. The best part is that this small car has great pickup, better than many of its competitors. For those who want to stay connected on the road, the e-Golf supports both Android Auto and CarPlay. The price starts at $28,995.
#3 Nissan Leaf
Starting at $30,680, this affordable all-electric car is the most popular electric vehicle worldwide. The Leaf is a stylish hatchback with lots of leg room for a compact car. It has a 107-mile range from a single charge, which takes about 7 hours. Nissan is also offering very enticing offers, so if you want an electric car that has already stood the test of time, this may be the one.
#2 Kia Soul EV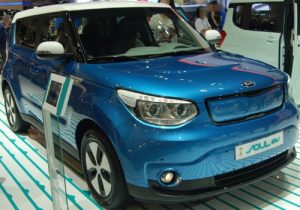 This completely redesigned crossover starts at $32,250 and is loaded with tech features, like compatibility with Apple CarPlay and Android Auto. With a range of 91 miles, the Soul EV charges in less than 5 hours. The 2018 model is rumored to have a higher range, for those who are not satisfied with its current capacity. This car is currently only sold in ten states, so check for availability.
And the Winner Is:
#1 Fiat 500e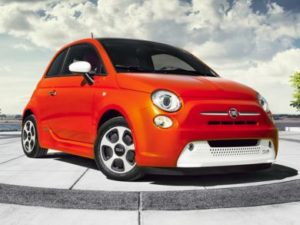 Starting at about $33,000, this stylish Italian EV has been dubbed as "eco chic." It's quick, fun to drive, and offers a smooth, quiet ride. The 84-mile range is less than impressive but with cash allowances and incentives to lease for super-low rates, you may just be able to deal with charging more frequently. It only takes 4 hours to charge the Fiat 500e, which is about average for most EVs.
---
The information in this article was obtained from various sources. This content is offered for educational purposes only and does not represent contractual agreements, nor is it intended to replace manuals or instructions provided by the manufacturer or the advice of a qualified professional. The definitions, terms and coverage in a given policy may be different than those suggested here and such policy will be governed by the language contained therein. No warranty or appropriateness for a specific purpose is expressed or implied.