5
minute read
Have you ever heard of house-flipping? It's a new trend for people to buy homes that are in bad shape but located in popular areas, and then "flip" them into modern homes that can be sold at a high profit. You may have heard of Joanna Gaines from the popular HGTV show, Fixer Upper. Her and her husband, Chip Gaines, became famous for flipping fixer-upper houses in Waco, Texas and making them into beautiful homes that any couple or family would want to live in.
What Is A Fixer-Upper?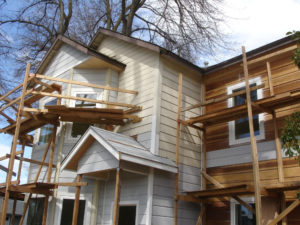 A fixer-upper is defined as real estate property that requires remodeling, repairs, reconstruction or redesign. It is a home that needs an extensive remodel before it is comfortable to live in.
However, you don't have to flip houses for a living to buy a fixer-upper. In fact, many first-time home buyers prefer purchasing a fixer-upper instead of a ready-to-move-in house. Homes that need some remodeling and updating are usually much more affordable, meaning you can spend more money on customizing the house into your dream home rather than on the initial sticker price.
Buying A Fixer-Upper
A fixer-upper is an investment in both time and money. Like most investments, there are risks involved. There are also many factors you need to consider before purchasing a fixer-upper home. Below are important decisions to take into consideration:
Location
Real estate is all about location. You probably don't want to live in a run-down area of town either. Buying a fixer-upper in a desirable location is key if you ever want to resell your home. Typically, highly ranked schools and low crime rates make a neighborhood a good place to live.
Budget
Extensive renovations, or even a complete house remodel, can be very costly. With a fixer-upper, the risk of unforeseen issues is higher, too. Make sure you have a budget that can not only afford the down payment and closing costs of the home, but also cover your renovation costs and then some. There's rarely a home renovation that goes totally according to plan.
Time
Depending on the amount of remodeling you plan to do, a fixer-upper can take anywhere from a couple of months to over a year to complete. It's important to consider where you're going to stay while your home is under construction. You may even want to find a house you can live in while it's being renovated.
Condition
Once you've looked at a few options, you'll probably realize that the state of every fixer-upper varies greatly. Do you want a simple project that only requires some cosmetic repairs? Or are you interested in completely remodeling an entire house? Consider your budget when answering these questions.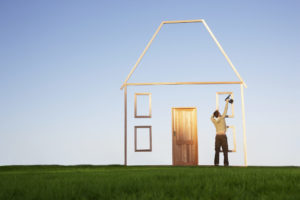 To minimize renovation costs, find a house with these conditions:
Solid roof and foundation
Good floor plan and layout
Quality construction
No mold or leaks
Inspection
Because it can be expensive and time-consuming to hire an inspector, many people skip this step when buying a home. However, a home inspector can uncover many significant problems with a house that can be costly to fix. They evaluate the interior, electrical wiring, insulation, plumbing, heating/cooling systems, roof, structure and more. If you don't have your fixer-upper inspected before making the purchase, you may end up paying for hidden problems that cause you to go over budget.
Contractor
One thing people like about fixer-uppers is that they get to be hands-on and do a lot of the repairs themselves. Renovations you can do yourself typically include stripping wallpaper, painting, demolition, and laying tile or carpet. However, for more complex repairs, we recommend hiring a reputable contractor. They should handle things like adding HVAC systems, replacing the roof, installing new plumbing or electrical wiring, replacing windows or building additions. Also, make sure you have the required permits for all your renovations.
Homeowners Insurance & Your Fixer-Upper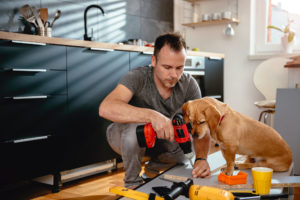 It's also crucial to think about insurance costs before buying a fixer-upper. That's because it's usually more difficult to insure a fixer-upper than a home already in good condition. Fixer-uppers are seen as a higher risk by insurance companies, especially if they've been foreclosed on or abandoned in the past. Not only that, but the renovation process comes with additional risks that make carriers wary of insuring a house being flipped.
There are 5 types of Homeowners Insurance coverages you should ask your agent about before closing the deal on your fixer-upper:
1. Conventional Insurance
This type of Homeowners Insurance is for a home that only needs basic repairs. If your renovations will be completed within 30 days of closing, your agent will probably recommend this policy.
2. Builder's Risk
This is the most common coverage offered to homeowners who are remodeling their home. A Builder's Risk policy will start at a lower cost that increases as renovations are completed and your home becomes more valuable. This policy will be easier to get if you have a timely plan to complete your renovations.
3. Vacant Dwelling
If you won't be living in your fixer-upper while it's being renovated, then you'll need this type of Homeowners Insurance coverage. This is a basic policy that covers your home in the case of most physical losses, not including theft. However, theft could be a serious risk if your home contains valuable appliances, tools, or copper wiring and piping.
4. HO-8
This type of policy is designed to insure older homes. However, a HO-8 policy does not cover the replacement costs of your home if you lose everything. This coverage is typically only suitable if you will be living in your home while it's under construction.
5. FAIR Plans
If you bought a fixer-upper and plan to do the entire renovation yourself or decide to use cash to pay for repairs as you go, then insurance companies may consider your situation too risky to insure. If this is the case, it may be a good idea to look into your state's Fair Access to Insurance Requirements plan.
Homeowners Insurance After Renovations
The policies above are typically more expensive and offer less coverage than a standard Homeowners Insurance policy. Once your fixer-upper's renovations are complete, you'll need a HO-2 or HO-3 policy. The best way to save on Homeowners Insurance is to shop multiple low rates at once. Our Insurance Specialists can easily find you the best coverage at the best price. Just call (855) 247-5298 to speak with an agent about your options.
Homeowners Insurance Tips
Keep Records. Make sure you keep all remodeling documents including estimates, bids, receipts and invoices. This will help you update both your home inventory and insurance policy more easily and accurately.
Talk To Your Agent. It's essential to keep your insurance company in the loop, including before you start renovations. Let your agent know your remodeling plans and budget so that they can better determine what coverage you need.
Ask About Your Options. Every house is unique and there are additional coverages you may want to consider adding to your policy. Ask your agent about the different types of natural disaster insurance coverages, Flood Insurance and Ordinance or Law Coverage.
Qualify For Discounts. One other thing you should ask your agent about is discounts. See if you're eligible for a multi-policy discount, burglary system discount, impact-resistant roof discount and more.
So, Is Buying A Fixer-Upper Worth It?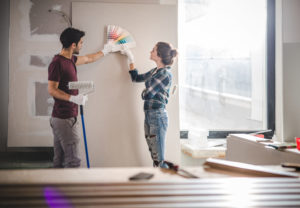 Only you can answer that question. If you choose a fixer-upper with good bones, you can end up with your very own dream home. However, there's also the possibility that you end up with a money pit.
To summarize, there are many costs that go into a fixer-upper that you must consider. Of course, there is the initial down payment and closing costs of purchasing the home. Then, you must consider the cost of the inspection, the total cost of renovations, the cost of a contractor, and the cost of any unforeseen problems that may occur. You'll also need to consider the cost of Homeowners Insurance. Speak with an Insurance Specialist at (855) 247-5298 to get a free quote before starting renovations.
---
The information in this article is obtained from various sources. This content is offered for educational purposes only and does not represent contractual agreements. It should not replace manuals or instructions or the advice of a qualified professional. The definitions, terms and coverage in a given policy may be different than those suggested here. Such policy will be governed by the language contained therein, and no warranty or appropriateness for a specific purpose is expressed or implied.