3
minute read
More and more companies are engaging in social distancing, which means many people will be working from home for the foreseeable future. You may have never worked from home before, or at least not for many days in a row, so we're here to help you stay productive. There are several simple tasks you can do to keep your mind focused while you work from home.
Below are just a few ways to stay motivated from your new at-home workspace.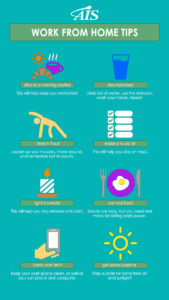 1. Stick to a Morning Routine
When you work from home, it may be tempting to roll out of bed and stay in your pajamas all day. However, you will be more motivated if you wake up and do all the things you normally would if you were going into work. This includes putting on more presentable clothes, taking a shower, brushing your hair, etc. You will feel much more productive if you move around in the morning and sit at a desk or table instead of staying in bed with your laptop perched on your knees.
2. Stay Hydrated
It's true that it's important to drink a lot of water every day. However, with the coronavirus going around, it's even more essential to stay hydrated because it helps boost your immune system. It also makes you use the restroom frequently, which flushes anything bad out of your system more regularly. Plus, you'll be washing your hands more often, too.
3. Stretch it Out
It's easy to lose track of time and find yourself sitting and staring at your laptop screen for hours. That isn't the healthiest thing to do for your mind or your body. You should get up and stretch for 10 to 15 minutes for about every two hours that you're sitting down. Look away from your screen, walk around, and loosen up your muscles by stretching.
4. Make a To-Do List
This tip is simple, but it's a great way to keep you on track. Write out everything you need to get done for the day and do each item one at a time. Checking each task off your list will keep you motivated to get the next one done. Then, at the end of the day, you will feel accomplished when you see all the tasks you crossed off your list. You also won't forget about any pending items either.
5. Light a Candle
Lighting your favorite scented candle creates a calm and soothing atmosphere. This will make your environment less stressful and your space more personalized.
6. Eat Real Food
This is probably one of the most valuable tips when you work from home. We get it. It's easy to munch on your favorite chips or cookies all day. However, too much snacking will seriously mess up your appetite and throw off your eating schedule. It's best to stick to your regular meals and mealtimes with limited snacking in between. If you must snack, portion it out in a bowl and put the rest away. This may help keep you from eating an entire bag of chips in one sitting.
7. Clean Your Tech
You probably know that keeping an organized workspace enables you to focus and stay on task. Yes, organization is important. However, so is keeping everything clean. And we don't just mean wiping down the big surfaces like your desk. Many people forget to also sanitize their keyboard, mouse and cellphone. Don't overlook any device that you frequently touch!
8. Get Some Sunshine
Don't coop yourself up inside! Practicing social distancing does not mean you can't step outside for a few minutes of fresh air. If possible, enjoy your cup of coffee or lunch break while sitting outside. Soak up as much sunlight as you can. Sunlight wakes you up and helps keep your sleeping schedule regular. So, it's essential not to skip out on that vitamin D!
Do you have more work from home tips you'd like to share with us? Leave a comment on Facebook or Instagram with the tasks that work for you.
---
The information in this article is obtained from various sources. This content is offered for educational purposes only. No warranty or appropriateness for a specific purpose is expressed or implied.