4
minute read
For those keeping score, there has been an influx of Californians moving to the Lone Star State in recent years. If you want to learn more about why everyone is moving to Texas, check this out. Are you a Texas newcomer? It's okay to feel a little overwhelmed navigating through such a large state. Don't let its sheer size scare you away from exploring and experiencing the great southern hospitality and unique entertainment. We're here to offer some tips and explain the rules when driving in Texas. Buckle up!
Traffic in Texas Compared to Traffic in California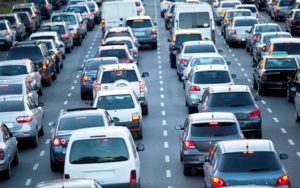 According to Business Insider, the top four major cities in Texas appeared on INRIX's most congested cities list in 2019. Ranked from the most to least crowded cities are Houston, Austin, Dallas, and San Antonio. It's no surprise that California's major cities, like Los Angeles and San Francisco, have the worst traffic and are ranked higher than Houston. The same report shows that Texas drivers spent an average of 63 hours sitting in traffic, costing their residents an average of $932 a year. In comparison, California drivers sat in traffic for an average of 84 hours, costing them $1,235 a year.
Rules of the Road While Driving in Texas
Whether you're a Texas native or visiting from another state, it's always a good idea to be well informed before getting behind the wheel. For the most part, driving laws in Texas are similar to other states. So, what makes Texas different? Here are a few laws to adhere to when driving in Texas.
Driving Under the Influence: First-time offenders are hit with a $2,000 fine and jailed for 3 to 180 days. Once reported by authorities, the Texas DMV immediately suspends the violator's driver's license for 90 to 365 days.
Texting While Driving:Â It's illegal to text and drive. However, devices used for navigation and music do not count as distracted driving. Violators are fine with a $25 to $99 ticket.
Speed Limits: Texas State Highway 130 has the highest posted speed in the U.S., which is 85 miles per hour. Pay close attention to posted signs for speed limits such as road work or schools when children are present.
Standard Speed Limits in Texas:
| | |
| --- | --- |
| Residential & Urban Districts | 15-30 mph |
| Rural & Country Roads | 55-70 mph |
| Freeway in City Limits | 55-75 mph |
| Freeway Outside City Limits | 70-85 mph |
Driving Without a Driver's License: A $200 fine with fine increasing each time a driver violates the law plus suspensions or surcharge may apply.
Driving Without Car Insurance: A fine of $350 for first-time offenders plus a surcharge for three years issued by the TxDMV for driving an uninsured vehicle. A second offense results in higher fines and may result in impounding your vehicle.
Wave and Acknowledge Others: Although it's not a law, it's a southern hospitality rule. When driving on rural and country roads, some drivers in front of you will merge to the right for you to pass. It's customary to give a friendly wave to acknowledge their kind gesture.
Understand Texas' Unique Feeder Roads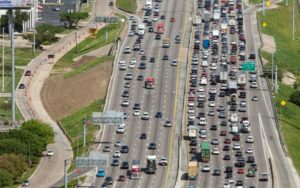 Feeder roads, also known as frontage roads in other states, are slower-speed side roads that run parallel along the freeway. These feeder roads serve as the entrance and exit points to local stores that merges you back onto the highway with ease. In some parts of the country, missing your exit is a long and strenuous detour to get back in the right direction. Whereas Texans can make a U-Turn from the feeder to get onto the opposite feeder by either crossing over or under a freeway. According to TexasMonthly, these special roads are only used by 1.97% of the American population and are predominately located in and around Houston.
Toll Roads in Texas
Toll roads are very common when driving in Texas. Just like California, most toll roads in Texas do not have a cash booth. Instead, tollway agencies utilize an electronic sticker or hardcase transponder. Toll fees are deducted from a prepaid account that you can manage online or through their app. While it isn't necessary to use toll roads to get where you want to go, it can save you a lot of time by avoiding upcoming traffic or provide you with a shorter route to your destination. Additionally, motorists who do not have a tag transponder pays at least 50% more according to NTTA. Here are some of the different tag transponders you can install in your vehicle to electronically pay for tolls.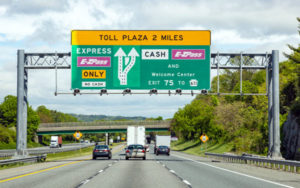 TxTag issued by Texas Department of Transportation (TxDOT)
TollTag issued by The North Texas Tollway Authority (NTTA)
EZTag issued by Harris County Toll Road Authority (HCTRA)
Texas Car Insurance Coverages
All owners or operators of motor vehicles in Texas must carry Auto Insurance. The state minimum Liability Insurance requirements are $30,000 in bodily injury per person, $60,000 in bodily injury per accident, and $25,000 in property damage. A coverage that is not offered in California but is available in Texas is Personal Injury Protection. Personal Injury Protection (PIP) is an optional coverage to help pay for injuries to you or passengers regardless of who's at fault.
How AIS Can Help You Save on Home & Auto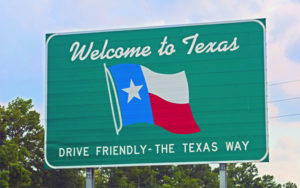 Texas has so much to offer, like a low cost of living, natural southern beauty, and a growing job market. While driving in Texas, you'll find that most Texas drivers are quite courteous. Although the Lone Star State is becoming a popular place to move to for many Californians, it is also home to flash floods and devasting storms like Hurricane Harvey in 2017.
Let us help you protect your family and property today. Speak with an Insurance Specialist to learn more about coverages in Texas by calling (855) 919-4247. We'll help you compare both Auto and Homeowners Insurance rates, as well as find you any bundles or discounts available.
---
The information in this article is obtained from various sources. This content is offered for educational purposes only. It should not replace the advice of a qualified professional. The definitions, terms, and coverage in a given policy may be different than those suggested here. No warranty or appropriateness for a specific purpose is expressed or implied.