3
minute read
AIS Stories is a new blog series meant to highlight our talented and amazing team member's life outside of work. Our AIS team is made up of unique people with deep passion, skilled artisans, athletes, veterans, and much more. These stories deserve a spotlight and we want to shine a light on what makes AIS a great place to work, our employees. Meet Annette – she's a marathon runner, she's a leader, and more than anything, she inspires.
A LA Native and LA Loyal Marathon Runner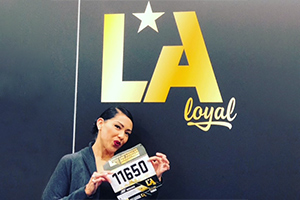 Annette U. is what some would call LA Loyal. But being born, raised, and residing in Los Angeles, California, is just a small part of what makes her a truehearted Angeleno. She's a marathon runner extraordinaire who has rightfully earned this prestigious title. LA Loyal isn't a label given to someone who calls the City of Angels their home. It's a recognition for dedicated runners who ran the LA Marathon for 10 consecutive years.
"I love that I can run the trails of Angeles Crest in the early morning and be off the grid for a moment."
When her father passed away in 2008, Annette found running as a way to heal. He was a kindhearted proud Mexican American hippie, as she describes, who was no stranger to the great outdoors. Not only was running her way to cope, but it helped her break free from her comfort zone and pursue a healthier lifestyle. Her outlet became a passion, and that passion sparked the interest of her oldest son, Owen, who eventually became a cross-country runner.
Crossing the Finish Line Together
Annette completes at least one long run of 10 to 16 miles a few weeks before an upcoming marathon to gear herself up for race day. And no matter the amount of training that goes into preparing for the big day without fail, there's always a moment, usually at the 20-mile mark, where her legs start to feel heavy and every muscle fiber is telling her to stop.
"I always feel like giving up at mile 20 and start to question why do I do this to myself?"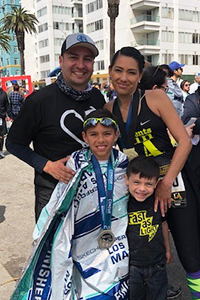 Except for in 2018, to date, that has been her most memorable LA Marathon runs. It marked her 10th consecutive marathon, qualifying her to be a LA Loyalist. It was also her son Owen's first marathon run at only 12 years old. Running with his Student Run LA (SRLA) group, he started the run sprinting ahead of his mom. When Annette approached the 15-mile mark, Owen was already several miles ahead of her. But to her, a marathon isn't about finishing first – it's about carefully utilizing her endurance to finish the race. At the 20-mile mark, she finally caught up to her son, only to find him walking with a look of defeat.
"I had to play both roles that day – mom and runner."
Any runner knows that once you stop running, it's extremely difficult to find your rhythm again. Owen was begging his mom if he could stop. But she knew he had it in him to finish the race. With a little pep talk, reminding him to hydrate and running by his side, her encouragement turned a limp into a jog, and then that jog became a run. In the end, they crossed the finish line together side by side. Two years later, she would run another LA Marathon, but this time with her husband.
"After a lot of self-talk, reflect, and prayer, I asked my Dad for his wings and off we go!"
Eyes on the Horizon: The Next LA Marathon
With the pandemic postponing the 2021 LA Marathon to November 7th, Annette has her goal set on completing her 13th consecutive LA Marathon under 4.5 hours. She also started taking up mountain biking and hopefully one day purchase an Airstream and travel across the country with her family. She wants people to know that there's always room to grow and to challenge yourself no matter what stage you are in life.
Part of Our Winning Team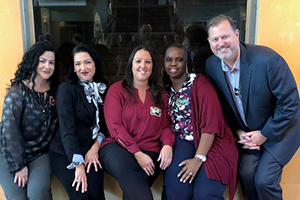 Annette joined the AIS family on December 16, 1998, as an insurance underwriter at our Monterey Park service center. Coincidentally, this particular date happens to be her father's birthday and the day she got her very first speeding ticket. When asked how could she possibly work for the same company for more than 20 years? She knew it was because of the people.
"I enjoy coming to work being surrounded by wonderful people. We lift each other up when we're down and celebrate each other's successes when we're up."
Today, Annette serves as one of our Customer Service Managers at our main office in Cerritos, California. In her role, she leads a team of professional insurance specialists who assist our AIS customers with policy changes, reviewing coverages and billing inquiries. Her ambition and "take care of business" mantra makes her an integral part of our AIS family.
---
AIS is an Equal Opportunity Employer. The purpose of our AIS Stories series is to showcase our amazing team. Annette was also featured in our Women's History Month series. See what she has to say about what Women's History Month means to her here.