3
minute read
Getting into a car accident is a dismal and often very difficult experience. It's even worse when it's a hit-and-run. Why? Because getting hit by a car that drives off can make things like Auto Insurance coverage especially tricky. Unfortunately, hit-and-run accidents are all too common.
According to one report, more than 1 in 10 motor vehicle accidents nationally involves a driver who flees the scene with a hit-and-run crash happening somewhere in the U.S. every 43 seconds. And unfortunately, the number of this type of accident is increasing.
What is a Hit-and-Run Accident?
A hit-and-run accident is a collision where a driver leaves the scene without providing any contact or insurance information. This can happen while driving or when your car is parked and unattended.
Generally, leaving the scene of an accident is against traffic code. After an accident, drivers are supposed to stop their vehicles (out of the flow of traffic), offer reasonable assistance to injured persons and exchange their name, current address, vehicle registration number as well as the name and address of anyone in their vehicle who was injured.
Why Do People Flee the Scene?
Many times, drivers in this situation are not supposed to be operating a vehicle because they don't have a valid drivers license or are lacking proper insurance coverage.  Another reason could be the operator is driving under the influence of drugs or alcohol.  Overall, leaving the scene is an attempt to avoid the consequences and responsibility for the incident.
What to Do if You're in a Hit-and-Run
1. Call the Police
It is important to call the police to report that you have been involved in a hit-and-run accident. Hopefully, you and any passengers went unharmed and are able to make the call. If no one was injured, the police may not arrive at the scene. However, they should send officers if you notify them that the other driver fled the scene.
2. Gather Information
It's possible that you got a good look at the driver who hit you or the car they were driving. Write their car details and license plate number down immediately if you can. Then, write down anything you remember about the driver. This includes ethnicity, gender, clothing, hair color, etc.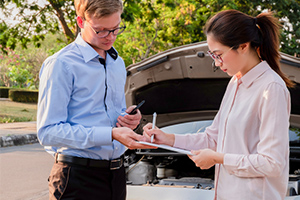 It may be unlikely that you got all this information by yourself, so look around for other witnesses. If there are people present who saw the accident, ask them if they saw the driver or license plate number. Also, make sure to get their names and contact information so you can call them later.
You should also take pictures at the scene of the accident. Be sure to include the location of the accident, as well as any damage to your car, any other cars or property as well as the area in general.
3. Call Your Auto Insurance Company
Once you have gathered all of the information you can get, call your Auto Insurance company to initiate a claim. If you have Roadside Assistance or another similar type of coverage on your policy, you can get immediate help, such as towing, if needed. If you have Rental Car coverage and need to rent a car while yours is being repaired, you can ask your agent about that, too.
Maybe you're really lucky and are able to identify the driver who hit you. You're even luckier if you find out that they have Car Insurance, too. You can likely get their insurance information from your insurer and file a claim with the other driver's company.
How Does My Coverage Work in a Hit-and-Run Accident?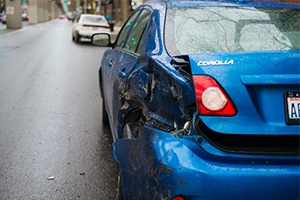 In a hit-and-run case, having only the minimum amount of Auto Insurance may not provide enough coverage. Depending on your state and whether you can identify the driver or license plate of the other vehicle, you may be able to use Collision Coverage or Uninsured/Underinsured Motorist Property Damage (UMPD) coverage to cover the cost of repairing your vehicle.  Collision Coverage pays for damages to your car upon impact with another vehicle, object, or person outside your car.  UMPD protects you against drivers who do not have enough Auto Insurance coverage or who do not have any coverage at all. It's an inexpensive coverage that pays when another driver's insurance isn't sufficient.
Think about what would happen if you get into an accident with a driver flees the scene or who does not carry any Car Insurance and cannot pay for the damages they caused. Would you want to pay for those damages out of your own pocket? For the majority of drivers, the answer is no, which is why we recommend having adequate Collision and Uninsured/Underinsured Motorist protection.
Let's Get You Covered
Do you want to learn more about car insurance coverages? Or about how your current coverage works in the event of a hit-and-run? Call AIS Auto Insurance Specialists today at (855) 919-4247. They can answer your coverage questions and discuss different coverage options. They may be able to find you a lower rate too.
---
The information in this article is obtained from various sources and offered for educational purposes only. Furthermore, it should not replace the advice of a qualified professional. The definitions, terms, and coverage in a given policy may be different than those suggested here. No warranty or appropriateness for a specific purpose is expressed or implied.