3
minute read
The 4th of July is quickly approaching, and families are gearing up for their backyard barbecues and picnics. While you may begin to think about lighting fireworks and making a big splash in the water, it is important to remember safety precautions for the celebration. Our 4th of July safety tips cover a few key summer topics to keep you and your loved ones safe this holiday.
Firework Safety Tips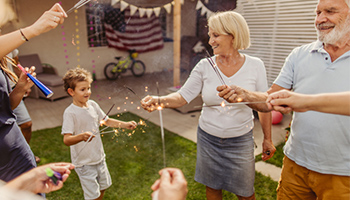 Most of the festivities that center around this holiday involve fires, like fireworks and grilling. According to the National Fire Protection Association, fireworks start an estimated 19,500 reported fires in the U.S. annually. Children ages 10 through 14 had the highest rate of fireworks injuries with sparklers accounting for roughly a quarter of emergency room visits. If you plan on using legal fireworks this year, be sure to read all warning labels and follow the directions on each firework device. Here are some safety tips to keep in mind:
Never allow young children to handle fireworks
Supervise your children when fireworks are lit
Older children should use them only under close adult supervision
Consider wearing protective eyewear and sound-proof headphones
Allow adequate space when lighting a firework
Light one at a time and maintain a safe distance after lighting
Never hold lighted fireworks in your hands
Teach older children how to properly use and dispose of sparklers
Keep a bucket of water nearby to fully extinguish fireworks
Have a fire extinguisher nearby
Alternatives to Fireworks
If you live in an area where fireworks are prohibited or you don't feel comfortable being around them, there are plenty of ways you can still get in the patriotic spirit! Here are five easy firework alternatives:
Light up the night with glow sticks
Set up a flashy color laser display
Celebrate America with noisemakers and whistles
Spray red, white, and blue silly strings
Plop water balloons filled with red, white, and blue coloring
Grilling Safety Tips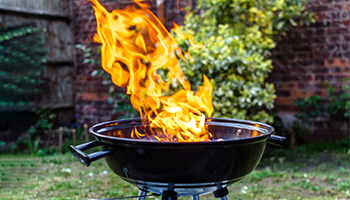 What's a Fourth of July celebration without some delicious food fresh off the grill? While it's easy to get lost in the sauce, let's not forget that FEMA reported 5,700 grill fires each year on residential properties. About 69% of those fire's power source comes from the use of propane tanks. Starting your grill without a proper inspection and cleaning can be a dangerous fire hazard. We highlighted some key safety tips below:
Clean your grill regularly to avoid grease and fat build-up
Always check the gas cylinder hose for leaks first
Never turn on the gas while the lid is closed
Do not add lighter fluid to already kindled coals
Keep your grill at least 10 feet away from structures and trees
Never leave a grill that is in use unattended
Use grilling tools specifically intended for cooking on the grill
Keep a spray bottle handy for minor flare-ups and a fire extinguisher nearby
Water and Pool Safety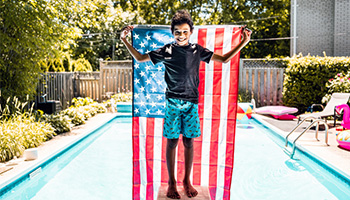 Active supervision is critical to keeping people safe around water this 4th of July. If you are planning to head to a pool party, the beach, the lake, or hosting a pool party, water and swim safety should be at the top of your mind. According to the CDC, drowning remains the second-leading cause of unintentional injury death for children ages 1-14. Following these safety tips and precautions can ensure the holiday celebration goes smoothly without any emergencies.
Designate a responsible adult to watch the water
Teach children how to swim
Never leave a child unattended in the water or near it
Make life jackets a must in and around natural bodies of water
Stay away from drains and ensure pools have drain covers
Install barriers, fencing, and covers on and around your pool
Remember to wear sunscreen
Know how to perform CPR on children and adults
Avoid alcohol and swim sober
Do not allow electronic devices near the pool
Do You Have Adequate Homeowners Insurance?
While the 4th of July epitomizes summer family fun, take extra precaution as this holiday is usually centered around fire, water, and crowds of people. The possibility of a house fire starting or someone getting injured on your property is high. Generally, a standard Homeowners Insurance policy helps cover the cost of repairing or replacing your home from accidental fires. However, always speak with your insurance agent to understand what is covered and how much coverage you have. Speak with one of our licensed insurance specialists today at (855) 919-4247 to conduct a free review of your homeowners policy.
---
The information in this article is obtained from various sources and offered for educational purposes only. Furthermore, it should not replace the advice of a qualified professional. The definitions, terms, and coverage in a given policy may be different than those suggested here. No warranty or appropriateness for a specific purpose is expressed or implied.