3
minute read
Quick quiz:
What's perfect for Americans who love to travel but aren't fond of planes or boats?
What's ideal for travelers who enjoy exploring new places and destinations on a single trip, but despise having to pack and unpack?
What's attractive for folks who love meeting new people when they travel but hate sharing walls with them?
By now you know the answer: a recreational vehicle. RVs let you bring your residence with you wherever you decide to go, without worrying about crowded hotels, airport security lines, and wasted money due to eating out all the time. But for those who want to fully embrace the RV lifestyle, they must make sure they are protected in case of an emergency or mishap. That means purchasing recreational vehicle insurance.
RV Policy ≠ Auto Policy
One common misconception about insuring recreational vehicles is that RV coverage is just like standard auto insurance. In reality, even though your current auto insurer may offer to cover your RV, the policy language may not be well-suited to the vehicle's needs. In contrast, an RV policy not only provides more comprehensive coverage for this special class of vehicles, but it also tends to cost less than regular auto insurance.
Types of Recreational Vehicle Insurance
There are a number of specialized coverages that fall under the umbrella of recreational vehicle insurance. For example, you can purchase what's known as purchase price coverage, which reimburses you for what you paid for your RV in the event it is totaled or stolen. In these cases, or if your RV requires significant repairs, an emergency expenses policy would cover alternate lodging. If you want to protect everything that's inside your RV, you can purchase a personal contents policy, or full-timer's coverage if you live in your RV on a permanent basis. Finally, campsite liability coverage pays for medical bills incurred if you or someone else is injured while on your RV campsite.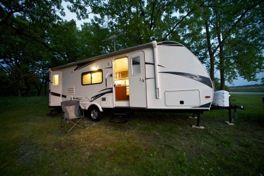 RV Insurance: Not Just for Motorhomes
It's important to note that recreational vehicle insurance isn't just for true motorhomes. If you have a travel-trailer or fifth wheel, you can purchase either an agreed value policy (which sets coverage limits at a level that you're comfortable with) or a total loss replacement policy (which replaces a totaled travel trailer with the latest comparable model). Campsite liability and emergency expenses coverages are also available for these types of RVs. You can even purchase insurance for your converted bus – whether it's an older model, a pre-converted bus, or even a converted school bus.
Let AIS be Your RV Insurance Provider
Auto Insurance Specialists offers a full range of recreational vehicle policies in all of the aforementioned categories. But AIS provides more for its customers than just coverage; they also are available seven days a week for RV owners who need to make a claim, change or alter their coverages, or ask a question about their policy. Finally, AIS is proud to act as an information source for RV owners, providing tips, suggestions, and the latest news about the entire recreational vehicle lifestyle.
And of course, AIS has been saving money for all types of customers for over 40 years. To find out more about any of the RV insurance policies discussed here, visit the AIS website or call 800-449-8943.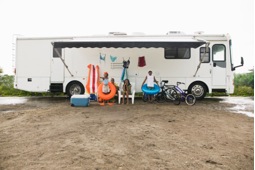 Written by Chris Martin
The information in this article was obtained from various sources. This content is offered for educational purposes only and does not represent contractual agreements, nor is it intended to replace manuals or instructions provided by the manufacturer or the advice of a qualified professional. The definitions, terms and coverage in a given policy may be different than those suggested here and such policy will be governed by the language contained therein. No warranty or appropriateness for a specific purpose is expressed or implied.