3
minute read
You can't jump into a time-traveling machine and jump ahead to the future. You can't even catch a glimpse of the future by gazing into a crystal ball. But in the automotive world, you can see what lies ahead in the future by attending the New York Auto Show.
Every year just before Easter, the New York Auto Show kicks off at the Jacob Javits Convention Center in the Big Apple. This year marked the 114th staging of the show, and as always, automakers were on hand to showcase some of the new 2015 model-year vehicles as well as some concept cars and other exhibits. Here are some of the vehicles that received the most buzz at the 2014 New York Auto Show: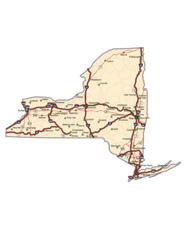 A great auto show in a great state!
The 50th Anniversary edition Ford Mustang. America's original pony car turns half a hundred this year, and Ford proudly displayed its tribute vehicle. It boasts louvered-style rear side glass, chrome accents, and only two available colors: Wimbledon White or Kona Blue.
The 2015 Dodge Challenger. Continuing to embrace its retro models, the newest Challenger sport subtle changes like two headlamps per side and a new grille design. Its interior has been upgraded, but it's still got the powerful Hemi engine under the hood.
The 2015 Alfa Romeo 4C. This vehicle represents Alfa Romeo's reentry into the American market. The two-seater 4C features a lightweight carbon body design and an all-aluminum 237-horsepower engine mounted behind the two front seats.
The 2015 Chevy Corvette Z06 Convertible. Behold the first drop-top Z06 convertible in over half a century. The 2015 model hums with a 6.2-liter V-8 engine with supercharged 625 horsepower, allowing it to go from 0 to 60 in a mere 3.5 seconds.
The 2015 Kia Sedona. Imagine if a sport utility vehicle mated with a minivan, and you've got the '15 Sedona. But it works thanks to its upscale design, touch-screen entertainment system, stiffer chassis, and loads of safety features.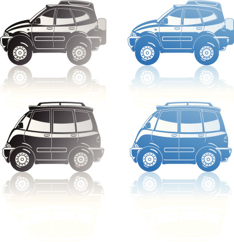 The 2015 Acura TLX Sedan. This model is designed to replace both the TL and the TSX sedans. It combines jaw-dropping design with advanced technology. The TLX is available with a 3.5-liter V-6 engine and Super Handling All-Wheel Drive.
The 2015 Jeep Renegade. It's a little boxy-looking but it's a pretty versatile off-road vehicle. The smallest Jeep ever built, the 2015 Renegade has a nine-speed automatic or six-speed manual transmission, and is supposed to be pretty fuel efficient for its class.
The Volkswagen Golf SportWagon TDI Concept. The proposed replacement for the VW Jetta SportWagon is said to be more fuel-efficient and powerful than its predecessor. The diesel all-wheel-drive car features a new post-collision braking system to prevent secondary car accidents.
The 2015 Mercedes-Benz S63 AMG 4Matic Coupe. It might be the sleekest luxury vehicle you've ever seen, and its aluminum paddles and Nappa-trimmed cooled and heated seats make it a joy to drive. The all-wheel-drive 577-horsepower S63 has a speedometer that goes up to 200mph.
The 2015 Koenigsegg Agera R. The Swedish carmaker actually built a vehicle with a top speed of 273 miles per hour. Its style screams 100% sportscar, and it's perfect for the speed geek who has $1 million to spend on a ride.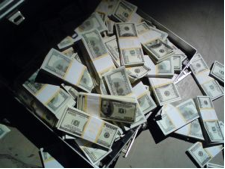 And this is about what it would take to buy that car.
As always, the 2014 New York Auto Show whetted the appetites for auto aficionados everywhere. Maybe it's not too early to start budgeting for these beauties – or the car insurance premiums that will go with them!
Written by Chris Martin
The information in this article was obtained from various sources. This content is offered for educational purposes only and does not represent contractual agreements, nor is it intended to replace manuals or instructions provided by the manufacturer or the advice of a qualified professional. The definitions, terms and coverage in a given policy may be different than those suggested here and such policy will be governed by the language contained therein. No warranty or appropriateness for a specific purpose is expressed or implied.