5
minute read
Once you're done with your spring cleaning, you might be thinking it's time to make some updates to your home, too. Fortunately, that doesn't mean you have to do any extreme or time-consuming renovations. There are simple design and home decor updates you can do in each room that will transform your home in no time!
Easy & Affordable Home Decor Updates
Below are a few things you might consider changing in your home to refresh or liven it up for the next season:
Curtains
You'd be amazed at what a new color of curtains can do for a room! If the room is neutral, then try going with a bold color. Yellows, oranges and pinks are perfect for spring and summer. Blues and greens are great for fall and winter. If your space already has pops of color, put some curtains up that are neutral but have a cool texture or pattern.
Potted Plants
Adding a medium-sized potted plant to your room can really liven up the place, whether it's real or fake. Adding greenery can open the area up and give the illusion of more space. You can stick with a neutral plant pot or choose one with a colorful design.
Accent Pillows & Throws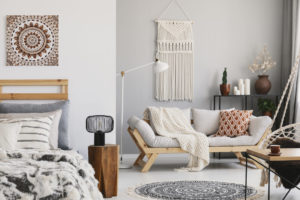 These are typically the easiest and most budget-friendly changes you can make to your home decor. First, look for inspiration online with a simple Google search or scroll through Pinterest. Take those ideas with you to an affordable store like Home Goods or Ross Dress For Less to find similar pillow and throw dupes for a great price.
Wall Art
Have you had the same wall art since you moved into your place like five years ago? It's time for a change! Abstract monotone art and framed printed word posters are currently trending, so try some out. If you're looking for a fun project, create your own art! Just frame it and hang it up once you've made the perfect piece. Also, you don't have to get rid of your current wall art. Store it somewhere safe for the next time you feel like you need a home decor refresh and switch it back.
Area Rug
Depending on the size of the space, switching out the area rug in your living room or bedroom could be a little pricey. However, if you haven't made a change in years, it's probably time anyway. Finding a new, clean area rug can lighten and brighten up your space. You might even feel like you have a whole new room if you update both your rug and accent pillows to match.
Coffee Table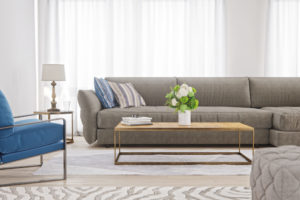 This is typically the most expensive item to change on our list, but it can be so worth it. Switching out any of your old furniture for a new piece can really make all the difference in your home. However, it's not always within the budget to buy a new couch or dining room table. That's why we're suggesting the coffee table. Buy something a little out of your comfort zone, or at least different from what you currently have to see the most significant transformation. You'd be surprised that such a small piece of furniture can change the whole vibe of your living room!
Home Decor Inspiration Instagram Accounts
If you're considering any of the changes above, you probably need some inspiration first. Look no further because we've got you covered. Below are five of our favorite home decor Instagram accounts. Each account features its own style, so you're sure to find some awesome ideas that will inspire your next home decor makeover. For more home tips, follow us on Instagram @ais_insurance.
Run by Beth Hunter, this account features home decor ideas for every room. Check out her living room, dining room, mud room, bathroom, kitchen and even her outdoor patio area! If you like soft, feminine designs with neutral tones and light airy colors, then this is the home decor Instagram account for you. Get inspired with subtle patterns and pops of green that are sure to brighten up your own home.
View this post on Instagram
If you're not 100 percent sure what your style is, check out this Instagram account. Amber runs the account and is an interior designer that posts different homes and rooms that are well put-together and unique in their own way. Not only does she post her designs, but she'll also repost some of her inspiration. You're sure to see a wide variety of symmetrical designs, subtle décor and earth tones.
View this post on Instagram
This Instagram account has been trending for many people in the interior design world, so you know it's a great place to get inspired. If you like white, minimal and clean spaces then this Instagram account is right up your alley. You can see that everything is aesthetically pleasing with large white areas accented by wooden features alongside dark browns, grays and blues. Each room they post is simple but still feels unique, airy and homey. If that's what you're going for in your home, give Syd and Shea McGee a follow.
View this post on Instagram
One word to describe this tiny home in Venice, California is green. Dubbed the "Tiny Canal Cottage" by owner Whitney, this home is full of stunning greenery both inside and out. If you're looking to test out your green thumb, get inspired first by Whitney's lush home interior. Who knew plants could be such beautiful home decor? You'll also find white rooms with neutral accents that include lots of pinewood features. You'll also see that a green home is also a kid-friendly home, so check it out!
View this post on Instagram
If you're a big fan of the color navy, then you'll love the inside of Ashley's house and all her posts about it. Each room is a magical combination of textured white walls, navy blue furniture and pops of green. Yes, she has many potted plants which either hang from the ceiling or sit on at least one surface in the room. She has a style that is neutral yet interesting—and definitely pleasing to look at. See if her family's home is the one that will inspire your home's new decor.
View this post on Instagram
Homeowners Insurance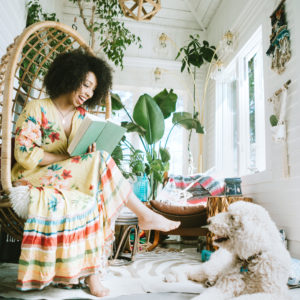 If you're going to spend all that time and put all that love into creating the perfect home, make sure it's properly covered. Guess what? You don't have to overpay for your Homeowners Insurance. Qualify for discounts and bundles that can lower the cost of your premium while still providing your home with the full coverage it requires. Call an AIS Insurance Specialist at (855) 247-5298 to talk about your Homeowners Insurance options. You might just end up saving money, too!
---
The information in this article is obtained from various sources. This content is offered for educational purposes only and does not represent contractual agreements. No warranty or appropriateness for a specific purpose is expressed or implied.