4
minute read
We're about to hit the big summer holiday season once again. The 4th of July is a great time to see fireworks with family, chow down on delicious food, and best of all, enjoy a much-needed day off. With all the anticipated fun, it's easy to forget just how dangerous the roads can be during the rush of summer travels. To avoid hindering your fun this coming 4th, we compiled a few road trip tips to keep you and your family safe on your travels.
Before Your Road Trip
With states relaxing COVID-19 restrictions, travel is expected to surge this summer. According to TripAdvisor, 67% of Americans are planning to travel this summer and 74% of that travel will be on domestic trips. So, what does that mean for your road trip plans? Expect larger crowds at major attraction sites and more vehicles on the roads. Even if you're familiar with and have done this trip multiple times, plan to do a little more research to avoid any unwelcome surprises.
Now more than ever, preparation for your road trip is key. Here's what you may want to consider before hitting the road this summer.
1. Confirm Reservations Ahead of Time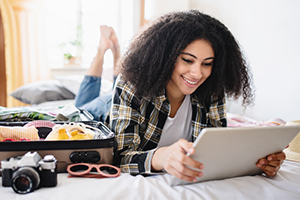 If you're planning to stay at a hotel or other lodging, call ahead to confirm your stay, especially if you didn't book directly through the hotel's website. It's quite common for hotels to regularly upgrade or update their computer systems, which may result in a lost reservation. It's a good idea to have your confirmation printout handy when you arrive. Additionally, check your destination's most current coronavirus-related restrictions. Depending on the state you're visiting or where you're coming from, proof of a negative COVID-19 test or vaccination card may be required.
2. Car Maintenance and Inspection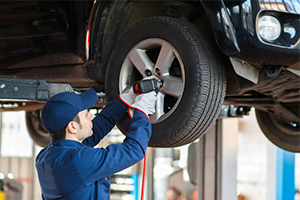 Make sure your car is in good shape before hitting the road. Even if your vehicle is fairly new, it doesn't ensure it's ready for a long road trip. For example, your car may be overdue for an oil change or has a tire with an air leak. Consider having it serviced or inspected by a trusty mechanic. Not only can vehicle malfunctions lead to accidents, but they may also leave you stranded in an unfamiliar location. Here are some things to keep in mind when maintaining your vehicle:
Inspect tire tread, tire pressure, and spare tire
Check brake system for fluid leaks, worn out pads, and rotors
Secure and test the battery
Top off engine oil and other fluids
Replace worn wiper blades and replenish windshield cleaner
Check and replace any cracked, glazed, or frayed belts and hoses
Conduct an oil change if necessary
Test out your vehicle's air conditioner and replace the filter if needed
Keep your fuel tank above 1/4 at all times
3. Beware of Holiday Rush Hour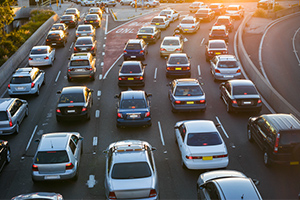 It may not be possible for you to completely avoid rush hour, but you can plan out your trip in advance to hit the least amount of traffic. Unfortunately, the 4th of July is considered one of the deadliest days on the road, so it's a bit safer to travel a few days before or after the holiday rather than on the day itself. If possible, leave early in the morning before 7 a.m. and for the return trip, avoid driving after 3 p.m. Not only are you reducing the risk of a car accident, but you may reap the benefits of saved time and gas as well!
4. Pack an All-In-One Emergency Kit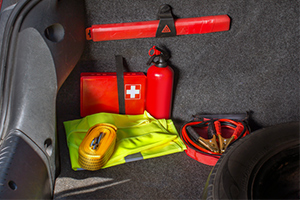 Being stranded on the side of the road is never a pleasant experience. Today, people rely heavily on cell phones to call for roadside assistance or close-by family or friends for help. Depending on your location, it may take a while for someone to fix your vehicle and get you back on the road. For your safety, you should always carry an emergency kit in your car at all times. Include all the essential items such as jumper cables, flashlights, batteries, road flares, first aid kit, basic tools, water, and non-perishable food.
5. Get Plenty of Rest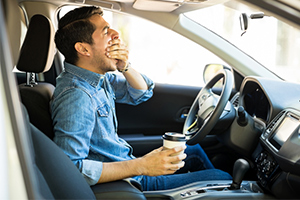 Perhaps you've been burning the midnight oil to pack last-minute luggage, gears, or snacks before your vacation. But while a long car ride may seem like a chance to recover as a passenger, it's no place to let your guard down when you're behind the wheel. Plan on taking frequent breaks and rotating drivers whenever possible. Missing just two to three hours of the recommended seven hours of sleep in the last 24-hour period quadruples your risk of a car accident, according to this traffic safety report. To avoid driver fatigue, schedule a break every 200 miles and don't be shy to catch a 15-minute nap at a rest stop if needed.
Review Your Auto Insurance Coverage Before You Hit the Road
While making sure you have the above items check marked, one last tip is to review your auto insurance policy to ensure you have the proper coverage! Speak with one of our licensed insurance specialists today at (855) 919-4247 to conduct a free review of your policy. We'll answer any questions you may have about your coverage extending out of state, roadside assistance, liability limits, or having your friends drive your car.
---
The information in this article is obtained from various sources and offered for educational purposes only. Furthermore, it should not replace the advice of a qualified professional. The definitions, terms, and coverage in a given policy may be different than those suggested here. No warranty or appropriateness for a specific purpose is expressed or implied.